Rail body makes changes to contractor ranking system after pressure from firms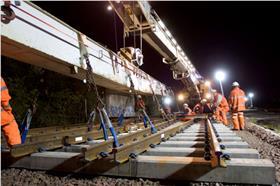 Network Rail has revamped its league table of contractors into bands following pressure from suppliers.
The latest version of the Network Rail's supplier league table, which ranks suppliers on their performance, has changed to group suppliers into one of five quality bands rather than as a league table.
The rankings are published monthly and based on the scores the contractors achieve over the last four weeks under Network Rail's PRISM scoring system.
Guy Stratford, head of contracting for infrastructure projects at Network Rail, said: "Having the league table showing each contractor in relation to each other was causing a lot of questions to be asked by contractors around the detail of why someone was in a particular place.
"Really there's so small a difference in the scores that that's distracting from what's important, which is how well someone is doing."
In the latest league table three firms - Bridgeway Consulting, Colas Rail and Story Rail - achieved an average delivery score high enough to put them into the top A-band.
A further 21 firms were ranked in the B-band including Morgan Sindall, Mott MacDonald, May Gurney and Costain. The c-band contained 17 firms and the D-band contained two firms.