Client and Weston Williamson architects prepare plans to revitalise Peckham Rye area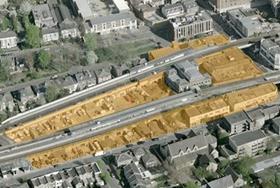 Network Rail and architect Weston Williamson have worked up plans for the £25m revamp of the area around Peckham Rye station in east London, which will be unveiled at a public consultation starting this weekend.
The plans will revitalise the area around Peckham Rye station, including reviving a new square in front of the Grade 2-listed building, which has been hidden for many years.
Network Rail's director of planning and land services, Tom Higginson, said: "With improved services to Peckham Rye station now running, we've got the perfect opportunity to invest in the station area with Southwark Council.
"We, and our partners, will be listening to the people of Peckham in drawing up a plan to benefit the area and help boost existing and new business."
Weston Williamson's architect said: "We very much look forward to presenting and discussing the design with the community at the forthcoming consultation events and receiving feedback on the proposals for this significant project at the very heart of Peckham."