Job has already missed three openings while cost looks set to top £19bn
Crossrail will say towards the end of next month when it expects to complete the job and for how much.
It will be the fourth opening date the railway has committed to, having bust three previous ones including the original opening date of December 2018.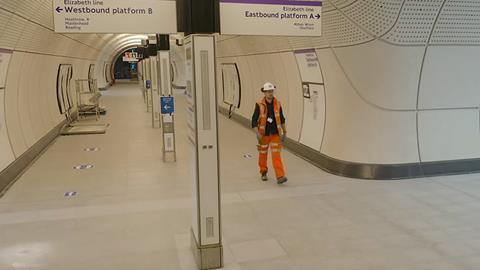 Last week Crossrail revealed the central section of the new line would not be ready for a summer 2021 opening.
And earlier this week, Transport for London, which is helping fund the job, admitted the cost of the scheme looks set to breach the £19bn mark from its current cost of more than £18bn.
Speaking at the latest TfL board meeting this morning, Crossrail chairman Tony Meggs said: "The latest projections suggest the cost increases will be higher than the £400m to £650m [agreed last November] above the funding package. We are not yet in a position to publish our forecasts."
> TfL planning for 2023 Crossrail opening
> Crossrail: How the delay has unfolded
Meggs said a "more comprehensive update" would be outlined following the next Crossrail board meeting at the end of August but said it was imperative that more "over-optimism" was avoided.
Meggs said: "We have suffered on Crossrail in the past for prematurely providing forecasts that haven't been through sufficiently rigorous analysis.
"We do not want to do that again, so we plan to provide a revised cost and opening windows on 21 August but I do want to put that caveat in there. We will not issue a forecast that we do not have full confidence in."
Meggs said covid-19 had been one reason for the programme missing another deadline but that delays caused by the pandemic was not the sole issue.
He said: "While we have been able to accomplish a good deal under these very difficult circumstances, the site shutdowns in March together with current covid induced site constraints has inevitably had a substantial impact on the programme."
"I should say, just to be clear, that this is in addition to schedule pressures that were evident before covid impacted the programme."
Crossrail chief executive Mark Wild said the number of workers on site had gone down dramatically since the coronavirus crisis took hold in March with sites reduced to between 40% and 50% of pre-covid levels.