City transport chief says announcement due by second quarter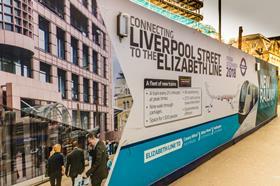 A senior figure at the City of London has told Building Crossrail is hoping to announce a new opening date for the railway in the second quarter of this year.
Chris Hayward, the chairman of the authority's planning and transportation committee, said: "They're [Crossrail] telling us by the second quarter."
Crossrail passes through three stations in the Square Mile – Liverpool Street (pictured), Moorgate and Farringdon – with the City having stumped up £200m back in 2017 to help fund the route, known as the Elizabeth Line, after the scheme hit milestones triggering payments.
Hayward said he had been reassured by meetings with the new management team which includes chief executive Mark Wild and chairman Tony Meggs.
"I'm satisfied the new team has got a grip on [things]. We do need a definite [opening] date but they can't break any more opening dates. It will be met with derision quite frankly.
"What [Mark Wild] is doing is wisely not coming forward until he's sure about the date."
The £17.6bn scheme was due to open last December but last summer it was announced the railway had been delayed until this autumn – although this revised date has now been bust with Wild admitting in January he had no idea when the scheme will open.
Wild said: "My team and I are working to establish a robust and deliverable plan to open the railway, once that work is complete then we will be in a position to confirm a new opening date."
Wild and Meggs are both due to appear before a Public Accounts Committee hearing tomorrow afternoon at which Wild is expected to give more detail on when a new opening date might be announced.
The bulk of the work left to be completed on the project revolves around complex M&E and technology work on the route's central London stations.