NHBC releases annual data which also shows 28% rise across the country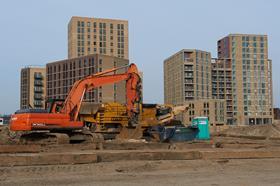 The number of new homes registered in London last year was the highest since electronic records began over 26 years ago, according to annual figures released by the National House Building Council.
In total, 26,230 new homes were registered in the capital last year - a 60% increase on 2012 figure of 16,364, the NHBC said.
Nationally, new home registrations also increased substantially to 133,670 in 2013, a 28% rise on the previous year and the highest number of registrations since the economic downturn in 2007.
According to the NHBC, the statistics showed a "broad based sustained recovery across England" and year-on-year increases in Scotland and Northern Ireland as well.
NHBC chief executive Mike Quinton said: "Looking back at 2013 it is very clear that it has been the best in a number of years for the sector as a whole, across the entire country.
"Over the year, we have seen a genuine return of confidence to the industry as builders strive to meet the growing demand for new homes that the UK clearly needs. Government initiatives such as Help to Buy have also contributed to registrations increasing at their fastest rate since the downturn.
"However, let's be clear that we are not popping the champagne corks just yet. As we have stressed throughout the recent upturn, this recovery has been from a historically low base.
"The UK still has a chronic shortage of new homes, with an unprecedented number of young people still living at home and unable to get on the housing ladder. There is much work still to do, but the UK's housebuilding industry is up for the challenge."
In summary, NHBC's annual statistics for 2013 reveal:
133,670 new UK homes were registered last year compared to 104,514 in 2012.
All English regions reported growth on 2012 figures
UK private sector up 25% on 2012 (97,399 - 78,125)
UK public sector up 37% on 2012 (36,271 - 26,389)
Registrations in Scotland and Northern Ireland also up on 2012
Increase in smaller builders joining NHBC register (Average of 50 new builders a month joining the register July - Dec 2013)