Findings will be published in July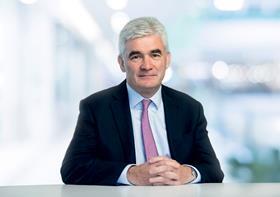 New Kier chief executive Andrew Davies has ordered a strategic review of the business on his first day in the job.
Former Wates boss, Davies (pictured) started his new role this morning and in an update to the City, the firm said the review will "consider ways of further simplifying Kier to create a more focused group".
The review is set to look at which parts of the business can be hived off to streamline the £4bn company which last month announced that it had slumped into the red in its first half on the back of mounting debts and problem jobs.
Kier said the review will also examine "the allocation of capital resources across the group and additional steps to improve cash generation and reduce leverage".
Davies will announce its findings in July.
Cenkos analyst Kevin Cammack said the news would cheer investors and added: "[They] care more about the financial state of Kier than its earnings potential and besides any significant portfolio reassessment would likely render growth targets redundant anyway."
And he said he expected to see more non-core disposals including PFI equity stakes with Cammack speculating that Davies might pull out of property development while housing maintenance could also be put up for sale.
Cammack added: "I think contracting and construction services will be retained and nurtured profitably. We won't have too long to wait to see what the future structure of Kier will be. He's not hanging about."
The review is in addition to the Future Proofing Kier cost-cutting initiative introduced by Davies' predecessor Haydn Mursell last summer.
Kier added that Philip Cox, who had been filling in the chief executive's role after Mursell's departure in January, has now returned to his role of non-executive chairman.