Procurement guidelines for steel have been introduced for all major government contracts to allow UK firms to compete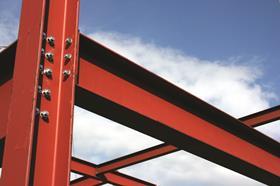 The government has announced new guidelines for the sourcing and buying of steel on major government contracts as it seeks to "level the playing field" for UK firms competing against cheaper overseas suppliers.
The new guidelines will require contractors to advertise their steel requirements, while government departments will have to take into account the social impacts of suppliers.
This includes the impact on jobs, health and safety of staff and the social integration of disadvantaged workers as well as placing a responsibility on firms to upskill the workforce.
It is also hoped this will improve visibility of opportunities on major projects such as HS2 and Network Rail, so that UK steel suppliers will be able to bid.
The guidance also encourages departments to assess the carbon footprint of bids.
The instructions apply to all infrastructure, construction or any major procurement project with a significant steel component where the overall project requirement has a capital value of above £10m.
The measures come in response to accusations of China 'dumping' cheap steel in the UK, undercutting UK manufactures.
Around 4,000 jobs have already been lost following the closure of SSI's Redcar plant and the downsizing of Tata Steel's operations in Scunthorpe and Scotland.
Matthew Hancock, paymaster general and chair of the Steel Procurement Working Group, said: "By asking procurers on major UK projects to consider social and environmental impacts, we are building a Britain that is happier, healthier and better off.
"We will always strive to get the best value for money for taxpayers and we are going to do so in a way that strengthens our economy and bolsters the long-term prosperity of people across the country.
"I don't want contracts going abroad if the best bid is a British bid with all the social and economic benefits that brings."