Group to be led by board of placement students
A new think tank backed by leading construction firms has been set up to find ways to keep young people in the industry.
The Future Innovation Group will be led by a steering group of placement students, who will seek to identify why the industry struggles to attract and retain people at early stage career level and find solutions to solve this problem.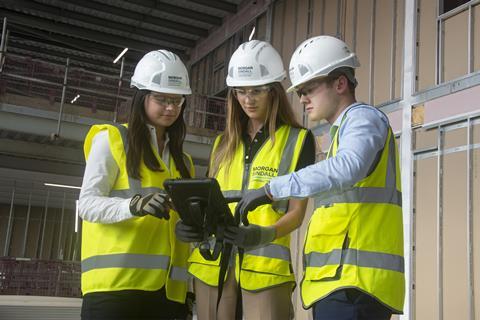 The think tank is backed by a range of major companies, including Morgan Sindall, Pick Everard, Wates, ISG, Faithful & Gould and Pagabo.
Pagabo chief executive Gerard Toplass said that just 25% of the 40,000 who start qualifications complete the process and stay in construction.
"This is an alarming statistic and a great cause for concern regarding the future of our workforce as we need to adapt in order to suit the requirements of tomorrow – and thus far have been too slow to do so," he said.
Rebecca Rennie, a placement engineer at Morgan Sindall who is on the group's leadership panel, said the think tank's main goal was to bring together "likeminded young people" from across to industry to discuss "how we can make it a more attractive place for future generations".
"We hope the group will be a springboard for change, identifying why junior recruitment has become such a pervasive issue, and how we can rectify it to build a better industry for all stakeholders," she added.
The group will also look at how to make the industry more data driven, and its first event will be a hackathon at Hull's Hilton Hotel at the end of the month.