First statistics show only 250 homes were sold during first four months of scheme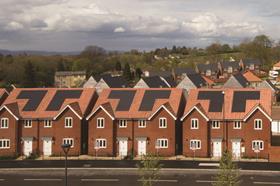 Just 250 homes were sold under the government's "NewBuy" scheme in the first financial quarter it was available, new statistics have revealed.
When it launched in March, ministers said the programme – which helps people purchase homes with a smaller-than-usual 5% deposit – would assist up to 100,000 households purchase a property.
But official figures for the period from March 12 to June 30, suggest that it could take some 33 years for that target to be reached at the initial rate.
Chris Cobbold, head of the residential practice at property adviser DTZ, said it was "no great surprise" that the initial figures for NewBuy were so low, but questioned whether the government's target figure would ever be reached.
"I expect the volume of NewBuy sales to ramp up over the next couple of years, but then start to plateau," he said.
"That could be at 5,000 sales a year, it could be at 10,000 a year.
"At these levels the intervention will be making a useful contribution to boosting demand for new homes – but some way short of the impression the government gave when it stated that this would help 'up to 100,000 homebuyers."
Cobbold said new housing initiatives always took time for embed and that things only really took off when satisfied customers were available to talk about how the scheme had helped them.
He said anecdotal reports that 1,500 reservations had so-far been made through the scheme were an indicator it was "gathering pace".
Department for Communities and Local Government said its quarterly NewBuy statistics would now be published on a six-montly basis, with the next set due in March.