Hawkins\Brown-designed Urban Science Building is part of £250m science park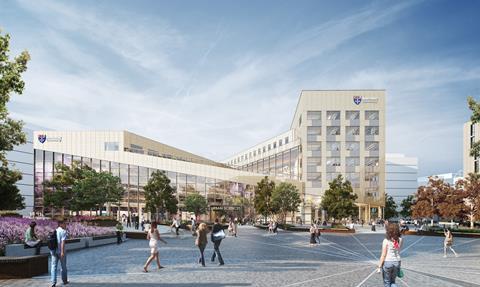 Newcastle University has submitted a planning application for a £58m Urban Sciences Building, designed by Hawkins\Brown.

The building, which is part of the university's £250m Science Central development, will bring together a range of research disciplines under the banner of "digitally enabled urban sustainability".

In addition to teaching spaces and workshops, the building will include an Urban Observatory and Decision Theatre, where real-time data from the city will be analysed to improve understanding of the interaction between energy, water, transport, waste and digital control systems, and a Cyber-Physical Laboratory, dedicated to understanding the complex interaction between technology and society.

The facility, which will also incorporate a public performance space and a rooftop wildflower meadow, will be home to about 1,500 staff and students.
Ewan Graham, project architect for Hawkins\Brown, said: "The Urban Sciences Building has been designed to stand as a beacon of technical innovation from its position on the central axis of the new urban quarter."
Work is due to begin on the Urban Sciences Building later this year with a planned completion date of September 2017.