Seddon and Bailey families accompany Ray O'Rourke and McAlpines on annual table of UK's wealthiest people
The Seddon family behind the 120-year-old construction group and the family in charge of NG Bailey are both new entries to this year's Sunday Times Rich List.
The annual ranking of the UK's 1,000 wealthiest people puts Stuart and Jonathan Seddon as having an estimated fortune of £150m.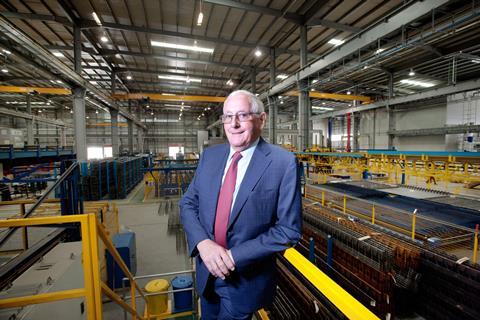 Stuart heads Novus Property Solutions while Jonathan runs Bolton construction firm Seddon.
The Bailey family, whose NG Bailey business celebrates its centenary next year, is estimated to be worth £144m.
Another new entry is Durkan Homes executive chairman Danny Durkan who 10 years ago took over the business his father William founded in 1970. His fortune is estimated at £125m.
Also making the list with a fortune of £175m is Norman Foster, the founder of Foster + Partners which won the 2018 Stirling prize for the Bloomberg building in the City of London.
That scheme was built by Sir Robert McAlpine with the McAlpine family having an estimated fortune of £207m.
Others to make this year's list include Kevin Lagan, who masterminded the sale of Lagan Group's aggregates business to Breedon two years ago, with an estimated wealth of £450m while Rich List newcomers last year, brothers Cormac and Patrick Byrne, who set up Ardmore in 1974 as a small building firm in Brixton, south London, retain their spots with a fortune of £170m.
The estimated wealth of Laing O'Rourke chief executive Ray O'Rourke (pictured) has gone up £43m to £380m while the fortune of the Murphy family behind the J Murphy name is up £14m to £440m.
Well-known subcontractors are also on the list with Keltbray owner Brendan Kerr estimated to be worth £155m while the wealth of John Carey and family, who set up Careys in 1969, is put at £173m.
Redrow founder Steve Morgan, who left the business last year, saw his fortune drop £199m to £751m. Morgan was a persistent critic of Persimmon's bonus scheme, whose founder Duncan Davidson is estimated to have a fortune of £150m.
Also on the list is Sir James Wates, knighted last June, whose fortune ticked up £57m to £357m while former Bowmer & Kirkland chairman, 82-year-old John Kirkland, who stepped down from the role at the Derbyshire contractor last year and is now life president, is estimated to be worth £595m, up £10m on last year.
Construction's richest man, Bloor Homes founder John Bloor, who also owns Triumph motorcycles, has an estimated fortune of £1.86bn, down £45m.
But he is some way behind Sir Anthony Bamford, who is in charge of the JCB construction equipment business, who has an estimated fortune of £4.7bn, an increase of £550m.
Last week JCB said up to 950 jobs are at risk of redundancy because demand for its machines has plummeted during the coronavirus crisis.