Chief executive of M&E contractor admits plans will be hit by Brexit, but says there are reasons for optimism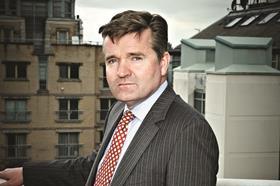 NG Bailey is aiming to get revenue back up over the £500m mark within three years as the firm looks to double margins by 2019.
The M&E contractor, which in recent years has been moving away from its core specialism to target a more even split between M&E, maintenance and IT work, saw turnover peak back in 2009 with an income of £600m.
Chief executive David Hurcomb (pictured) said: "We're a long way off that. That was in the heady days of Building Schools for the Future, PFI and Gordon Brown's spending boom. I don't think we're going to see that again."
The firm's latest turnover was up 12% to £408m for the year to February 2016 with pre-tax profit up £400,000 to £6.3m.
Margins currently stand at around 1.5% but Hurcomb wants to lift this to 2.5% by 2017 and to 3% by 2018/19.
Hurcomb, who is set to mark six years in charge of the business next month after joining from Carillion, admitted the firm's plans had been hit by the UK's recent decision to leave the EU. "Brexit has put a spanner in the works," he said.
But he added that he was more optimistic about the future than he was on the morning of the result six weeks ago.
"There's been some good things since the vote. The rapid installing of a new prime minister has been positive. I think Theresa May is going to be a strong leader and [Philip] Hammond has said the right things so far as chancellor. [The UK] has a lot to offer. Europe needs us as much as we need them."
But he warned that construction should brace itself for a rough ride following the Brexit decision.
"We have no idea what any [Brexit] agreement will look like and it's going to take two-and-a-half years to see what our trade deals look like. I do think some investors will be put off because of the uncertainty they find themselves in."
He said London, where the firm carries out around a quarter of its business, had most to lose from Brexit. He said: "What happens with the City will be key and London has a lot of overseas labour."
He added that he was disappointed former chancellor George Osborne's northern powerhouse scheme had not come to much yet.
NG Bailey is headquartered at Ilkley, near Leeds, and Hurcomb said: "Quite frankly, there ain't nothing happening at all."