Firm pays undisclosed sum for overhead lines and substation specialist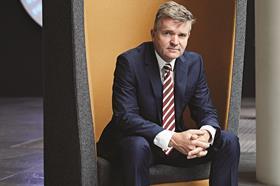 NG Bailey says it is eyeing more work in the electricity distribution sector after snapping up Wakefield firm Freedom Group for an undisclosed sum.
The privately owned M&E firm said Freedom's customers, which include Northern Powergrid, UK Power Networks and Scottish Power, would give it a foothold into a market "that is set for significant expansion over the coming years".
Freedom, which was set up back in 1996 following an MBO from utility firm Yorkshire Electricity, carries out work across substations, overhead lines, underground cables, buildings and associated infrastructure.
NG Bailey, which in its last report and accounts posted revenue of £500m in the year to February 2017 with a pre-tax profit of close to £19m, said the deal would also boost its workloads in the defence and airport sectors.
Chief executive David Hurcomb (pictured), who joined Baileys eight years ago from Carillion where he was an executive director, said Freedom's existing management team, which is headed by chief operating officer David Hartley, will continue to run the business under its existing brand.
He added: "Having Freedom's skills and expertise will increase our capabilities within electrical infrastructure. It makes strategic and commercial sense to have Freedom as a part of our group."
In its last report and accounts for the year to April 2017, Freedom posted a pre-tax profit of £463,000 after being hit with £1.3m of exceptional items, including spending £737,000 on redundancy and restructuring costs. Turnover during the period was £89m.
The firm employs 600 people across 16 offices in the UK taking the enlarged group's headcount to 3,600 staff.