Survey finds long payment terms and late payment remain rife in the industry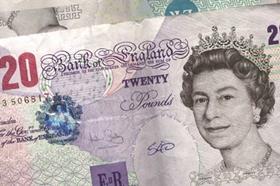 Nine in ten subcontractors have to wait more than 30 days to get paid, a survey has revealed.
The survey of over 200 subcontractors by campaign group and advice service Streetwise Subbie found 89% of sub-contractors are having to wait over 30 days to receive payment from main contractors on private sector contracts.
The situation was slightly worse in the public sector where 92% of respondents who had worked in the sector reported that they were paid in 30 days or more.
It also found that 61% firms felt unable to challenge main contractors when they offered them payment terms of over 30 days.
The construction industry has repeatedly been singled out as one of the sectors of the economy with the worst payment practices.
There have been repeated attempts to change this the latest of which is the construction industry payment charter, launched by the Construction Leadership Council in April, which requires signatories to commit to reducing their payment terms to 30 days from January 2018 and stick to them.
Under the current law firms have the right to take court action over payments that are later than their agreed terms or use the provisions to the Construction Act to suspend their work to force their employer to pay them.
But the survey found 84% of subcontractors think the current arrangements for combating late payment in the construction industry do not work and need changing.
In addition nearly 40 respondents expressed concerns over the effect the construction industry payment charter would have on reducing terms and ensuring prompt payment.
One respondent said it was a "worthless piece of paper" while another said: ""Supply chains are rarely monitored and clients that may question it are normally fobbed off with meaningless guarantees from main contractors."
Barry Ashmore, managing director of Streetwise Subbie, said: "If you have ever run a specialist contracting business, you would know that delaying payment to your labour force or suppliers isn't an option. The lads walk, and the suppliers put you on stop."
He said late payment was causing many specialist contractors to become insolvent. He added: "The failure of these small sub-contracting businesses does not reflect well on the growth of the economy or the rebuilding of a strong construction industry."