A Qatari consultant founded by two British former Davis Langdon partners warns planning system will slow scheme for 'humane' housing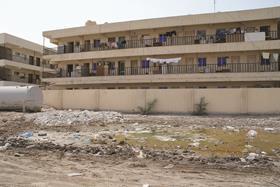 A Qatari consultant, founded by two British former Davis Langdon partners, has warned there is "no quick fix" to the problem of poor housing for Qatar 2022 World Cup construction workers due to the country's slow planning system.
As Building revealed in November, Quantex Qatar – founded 20 months ago by former Doha-based Davis Langdon partners Simon Trafford and Neil Hamilton – has launched a venture to build "humane" housing for Qatari labourers with US-based developer Global Building Solutions.
The improved accommodation would include health centres, shops, recreational areas and psychologists' consulting rooms.
The venture had hoped to open its first beds in April, but that is not likely to happen now until at least July as the Qatari authorities have not agreed a streamlined planning process to speed up delivery.
The issue of squalid and overcrowded worker accommodation in Qatar came under renewed scrutiny this month, after the Guardian revealed 183 workers from Nepal died in Qatar last year.
Trafford told Building: "The issue is that when submitted, there is currently no streamlined planning process for the approval of migrant worker homes and therefore as it stands, such schemes will fall in to line and be treated as any other project which takes months getting through the various Planning and Civil Defence approval processes.
"Consequently, without any changes to the system in processing applications for the construction of migrant workers homes, there can be no quick fix, and no quick delivery of improved housing for the migrant community."
The Qatar 2022 organising committee has said workers' rights and conditions on construction projects will be protected and a workers' charter will be enforced to "ensure the health, safety and dignity of workers".
However, one of the largest modern worker accommodation developments currently under construction – the Barwa Al Baraha scheme for 53,000 workers by developer Waseef Company – is running four years behind schedule, it emerged this month, raising questions about Qatar's ability to deliver large worker accommodation schemes quickly.
The first phase of the $1bn (£600m) development opened this month – four years later than planned.