Firm says it is set to start on recruitment drive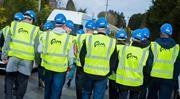 Listed contractor North Midland Construction has changed its name to NMCN, the firm has announced.
The Nottinghamshire-based firm said its subsidiary Nomenca, which specialises in M&E, would also be known by the new name.
The firm said the rebrand was intended to reinforce a 'one team' approach across its 12 UK offices, off-site build and fabrication facilities.
Chief executive John Homer said: "We are in a robust industry position and the launch of the NMCN brand signals the start of a new growth era for us."
The firm said turnover this year has jumped to £340m with a £700m project pipeline.
Recent projects wins include a treatment works in Jersey as well as spots on frameworks let by Highways England and South West Water.
NMCN employs 1,800 people and Homer said: "We are looking to extend our team with an intensive recruitment campaign running over the coming months."
In the year to December 2017, North Midland posted increased turnover of £291m but pre-tax profit halved to just over £1m.