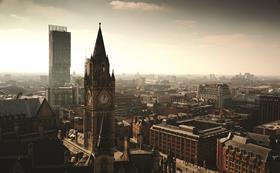 The North West is set to deliver construction projects worth only slightly less than those set to be built in the South East over the next four years, according to a new study.
A pipeline analysis produced on behalf of the Greater Manchester Chamber of Commerce by Barbour ABI, found that £29.9bn of schemes are set to come forward in the North West between 2015 and 2018, compared to £33bn for the South East.
It also said that over the past 15 years, the average contribution of North West construction to national Gross Value Added is only a third of a percent lower than that of the South East.
Greater Manchester Chamber of Commerce chief executive Clive Memmott said: "Since 2008, the outlook for the construction sector has been volatile but, along with the rest of the economy, it is now in better health. This is important as this sector is pivotal to the success of our regional economy."
The report also found that there are already another £85bn worth of construction projects in the pipeline for delivery after 2018.
The next four years' output is set to be driven by infrastructure and housing schemes, which make up £10.9bn and £6.8bn respectively of the £29.9bn total.
Greater Manchester accounts for £9bn of the pipeline, with nearly 30% of its pipeline consisting of housing projects. Cumbria has £8.7bn due for delivery, of which £5.1bn are infrastructure projects.
Labour demand for 2015 totals 184,064 workers, with an average for 2015-18 of 122,000, the report said.