US consultant has been keeping tabs on scheme for government and Transport for London
The man in charge of Crossrail has said a failure to invite the firm charged with overseeing the scheme to key meetings was nothing more than an "oversight" – and not a deliberate attempt to freeze Jacobs out.
In its latest report on the £18.6bn project, which it produces for the two groups bankrolling the job, the Department for Transport and Transport for London, Jacobs said it was worried it had not been asked to attend certain meetings.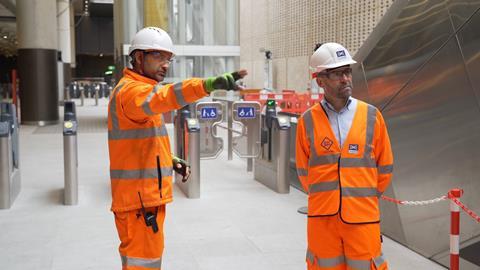 It said: "Scheduled planning workshops have taken place, but we have not been invited, nor had visibility of outputs.
"We are concerned that Crossrail may develop a revised schedule that presents an overly optimistic position that is target date driven and constrained by stakeholder expectation."
But in his response to the report, Crossrail chief executive Mark Wild said the missing invites were not intended to cut Jacobs out of the process, describing them as "an accidental omission".
>> Mark Wild interview: Why Crossrail will be worth the wait
>> Problems at Bond Street putting Crossrail opening at risk, Jacobs warns
>> Crossrail boss sounds alarm over industry shortage of engineers
He added: "It is important to me that we recognise the project representative's concern that they have not been invited to some meetings. We have, and will always, operate on an access all areas approach for the project representative.
"The urgency with which some meetings have been arranged has resulted in the accidental omission and this is being addressed by reiterating the importance of the team's attendance. I would like to reassure the project representative that it was merely an oversight."
The report, which covers the three weeks to the end of March, also raised concerns about delays at Bond Street, saying that there was concern that a focus on trying to get the station ready to open in line with the rest of the line could in fact result in the whole scheme, which is now due to open in the first half of 2022, being delayed.
But in an interview with Building Wild said he was fully prepared to open the route with or without the problem-plagued station.
He said: "We couldn't delay the whole railway just because of Bond Street. So it depends on when the railway opens. If the railway opens around the time that Bond Street is available, then it will be in it. And we are going to do our very, very best to really bring forward that date as much as we can."