Sector skills council announces funding for training to build the UK's eight planned nuclear reactors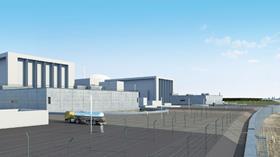 Sector skills council CITB-ConstructionSkills is to invest £2m in training construction staff to work on the UK's nuclear new build programme.
The first UK nuclear power plant to be built in decades will be EDF Energy's Hinkley Point C plant in Somerset, which is currently going through the planning process and is due to start construction next year.
The project will house the first two of eight new nuclear reactors planned around the country.
CITB estimates that around 25,000 people will be needed to build each plant.
James Wates, chair of CITB-ConstructionSkills, said: "In the 25 years since the UK last built a nuclear reactor, nuclear technology has leapt forward. This requires a commensurate shift from our industry and the £2m we are committing towards achieving this shift is a statement of our support in getting the industry prepared."
The announcement was made after the Nuclear Energy Skills Alliance (NESA), a group of bodies with an interest in nuclear power, including CITB and the government, agreed to share resources to map the future demand for nuclear skills.
CITB is seeking further investment from partners to support the UK's nuclear new build programme.