Nuclear industry experts fear sector could lose out on skilled workers to other major projects like HS2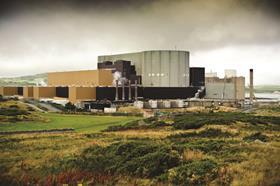 The nuclear sector faces a battle to attact skilled workers to build the next generation of nuclear power plants, industry figures have warned.
Nuclear sector leaders at contractor Costain and client Horizon - the firm behind the planned new Wylfa Newydd nuclear power plant in Anglesey - identified attracting talent as a key challenge facing the sector, at an event in London on Friday.
Speaking at the Institute of Civil Engineers' conference on the future of nuclear, Rob Phillips, nuclear sector director at Costain, said other major infrastructure projects had an in-built advantage of being near big towns and cities, meaning they were better able to attract enough skilled labour.
He said: "The challenge for the nuclear industry is that there is transport, water, oil and gas projects which mean people have choices, like HS2, Crossrail and Crossrail 2.
"They will choose rail and highways because they are there. If we can move power stations to centres of population it will make the industry more attractive, so we can bring those skills into the industry."
Also speaking at the event, Martin Walsh, head of civil engineering for Horizon Nuclear Power, said the client is taking steps to avoid facing a similar situation at its planned Wylfa Newydd plant.
Walsh said: "Anglesey is a relatively remote part of the world. We recognise that most of the supply chain and workforce doesn't currently live in or around Anglesey, so that's why we've created 4,000 living accommodation units."
Phillips added that the nuclear industry will need 7,000 new recruits a year between now and 2025 to fill the skills gap created by the pipeline of work.
It's thought that around 6,000 workers are needed on average during construction on a new power station, with around 1,000 required to keep it operational after it's built.
Separately, fellow nucelar client NuGen received a boost last week after it agreed a land deal with the Nuclear Decommissinging Authority to enable development of its £10bn Moorside new build nuclear plant at Moorside in Cumbria, near Sellafield.