Number 10 brings together advisory group of engineers and architects, as built environment professionals write to PM to urge action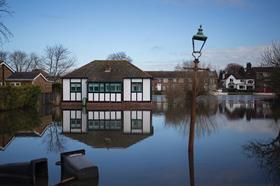 A high-level group of engineers and architects have been called in by Number 10 to advise the government on tackling flooding in the UK, Building can reveal.
Following a recent meeting of the Cobra government emergency committee, prime minister David Cameron announced that leading experts had been called to meet at Downing Street to help the government work on a "long-term solution to alleviate the risk of flooding".
It has now emerged that the group includes Arup's global research leader Jeremy Watson; civil engineer Jeremy Benn of engineering and environmental consultant JBA; engineers from the Chartered Institution of Water and Environmental Management; and Robert Barker, the co-founder of Baca Architects, which is working on the UK's first amphibious house and the government-funded Life project on flood-risk initiatives.
The experts met Sir Mark Walport, the government's chief scientific adviser, earlier this month. It is now expected that the group will offer ongoing advice.
Barker said: "National policy establishes some general flooding guidance but general guidance isn't going to be the solution to some of these overwhelming challenges in places like Somerset and Lincolnshire - where 90% of some regions are flood plain.
"The government needs to support greater innovation in planning and architecture, to live with and make space for water."
Benn said the group had initially discussed immediate challenges such as "removing water in the Somerset Levels".
Walport is already involved in considering how urban areas respond to future challenges such as climate change through the government's Future of Cities research project.
A Number 10 spokesperson said: "The government's chief scientific adviser has been consulting with relevant experts.
"There is a range of work ongoing on what can be done around issues of flooding and flood defence. We fully expect that to carry on for the foreseeable future but obviously things are at quite an early stage."
The news of the advisory group emerged as a group of architects, engineers, surveyors and ecologists urged the government to convene a "cross-departmental conference" with construction professionals to develop a long-term strategy to manage flooding.
In a letter to the Telegraph - signed by the chair of the RICS, the president of the Chartered Institution of Building Services Engineers, and the heads of 15 other professional bodies - the professionals said government needed to mobilise their "joint expertise".
The letter said: "Water management techniques could have helped prevent the effect of flooding on villages, towns and over surrounding land seen recently.
"Emergency measures are in order for the immediate crisis. But in the long term, the management of water requires a clear strategy."
The letter said that Sustainable Urban Drainage Systems (SUDs) needed to be fitted to all new buildings.
It said: "Buildings and land that cannot be properly protected should be made resilient to withstand flooding."
It concluded: "We are asking David Cameron to convene without delay a cross-departmental conference, including the professions, with the Department of Energy and Climate Change, the Department for Environment, Food and Rural Affairs, the Department for Communities, the Environment Agency and National Resources Wales, similar to the one convened to address the problem of ash dieback."
The full list of signatories to the letter
S E Illman, President, Landscape Institute
George Adams, President, Chartered Institution of Building Services Engineers
Heather Barrett-Mold, Chair, Institution of Environmental Sciences
Martin Baxter, Executive director – policy, Institute of Environmental Management and Assessment
Shireen Chambers, Chief executive, Institute of Chartered Foresters
Adam Donnan, Chief executive officer, Institution of Environmental Science
Michael Doran, Royal Institution of Chartered Surveyors
John Gregory, Institute of Fisheries Management,
Sally Hayns, Chief executive officer, Chartered Institute of Ecology and Environmental Management
Louise Kingham, Chief executive, Energy Institute
Steve Lee, Chief executive officer, Chartered Institution of Wastes Management
Karen Martin, Chief executive, Arboricultural Association
Dr Peter Spillett, President, Institute of Fisheries Management
Alastair Taylor, Chief Executive, Institution of Agricultural Engineers
Professor William Pope, Chairman, Environmental Policy Forum
Mike Summersgill, President, Chartered Institution of Water and Environmental Management
Jim Whelan, Council Member, Institution of Environmental Science
Meanwhile, the government's climate change watchdog, the Committee on Climate Change (CCC), warned that current plans for spending on flood defences, through to 2021, are as much as £1.4bn below the level required to ensure that the flood risk for homesacross the country does not increase.
It said that as a result, 250,000 more homes would become exposed to "significant risk of flooding by 2035".
In its detailed analysis of flood defence spending by the Department for Environment, Food and Rural Affairs, the CCC warned the funding shortfall meant the government was storing up £3bn or more of costs in future years as a result of avoidable flood damage.
In the analysis, published in response to the debate over flood spending, the CCC said that when comparing current spending plans against the Environment Agency's long-term investment strategy, an additional £20m plus inflation would need to be spent on flood defences each year for the next 25 years just to "hold constant the number of properties at significant flood risk over time".
It said an extra £50m plus inflation a year would be required to "make headway and reduce the number of properties at risk".
The watchdog said analysis of spending on flood defences showed that every £1 spent on average prevents £8 in future flood damage: "The current ratio implies that each £1 taken from the programme means expected future flood damages will be £8 higher than otherwise.
"Value for money will be less strong amongst schemes on the margin, perhaps achieving £6 in benefits per £1 spent.
"But even at this more modest rate of return we can expect an extra £3bn in avoidable flood damages in future years because spending this period is half a billion pounds behind the identified need."