Report forecasts lowest home completions since depths of 2009 recession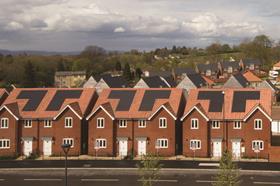 The number of homes built this year could fall to the lowest level since the depths of the recession in 2009 as the economic downturn and council cuts to house building targets hit the industry, a report has warned.
The study by real estate firm BNP Paribas and consultant Tristan Fitzgerald Associates forecast that less than 100,000 homes are set to be completed in England in 2012 - a shortfall of at least 85,000 on the previous government's targets set out in regional plans.
Tim Cann, head of residential at BNP Paribas Real Estate said: "The government is again on track to miss its targets, by a worryingly large number.
"To put this into perspective, losing 85,000 homes is like losing a town the size of Bournemouth."
The third annual Housing the Nation report said that only 110,000 new homes were completed in England in 2011 and that current new home completions in Q1 2012 were 18% lower than Q1 2011.
"This could lead to annual completions in 2012 falling below 100,000 for the first time since the height of the recession in 2009," the report said.
The research also collated figures from across England's local authorities, revealing that since the government abolished the regional spatial strategies councils around half of councils have cut their housing targets - with an average reduction of 19.5% - which equates to 23,400 homes per year across England.
The report said that all regions, apart from the north east, have reduced their housing targets, with the greatest loss in the Midlands, where targets have been cut by 21.5%. In absolute numbers, the highest cut has been in the south east, with a reduction of nearly 10,000 houses per year, the report said.
The report called for the government to release green belt land in the south east and pump prime development in the north of England.
It also called for the government to publicise league tables on housing targets and delivery by councils, with penalties for those falling behind.
Othe recommendations included:
Public and private sector initiatives needed to tackle restrictive mortgage conditions
Plan makers and developers to be more creative in the way they engage with communities and young people to outweigh the anti-development groups within these local communities
CIL money raised to be spent quickly and visibly on community facilities to secure community buy-in to new development in their areas
Planning application fees should be increased but on the provision that the quality and speed of service is made better in return
Create special 'development projects team' within the government to prevent major schemes being stalled by burdensome local demands
Dan Angell, account director at Tristan Fitzgerald Associates, said "Although the UK economy continues to struggle, the government cannot afford to be complacent when it comes to the creation of new homes.
"In order to keep the housing market alive, the Government needs to introduce swift changes which will ensure that current housing targets are not only met, but that they are not further reduced."