Amount of money owed by collapsed firm officially stands at £47m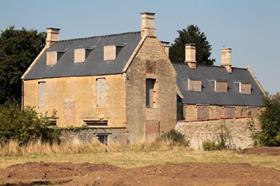 The amount of money owed by collapsed Shaylor Group could be bigger than the official £47m, Building understands.
Earlier this month, the firm's administrator FRP Advisory outlined what the stricken contractor owes in documents filed at Companies House.
They show the largest single creditor is Allied Irish Bank – due more than £14m – while six firms are owed £500,000 or more with the amount owed to trade creditors topping £19m.
One subcontractor, who asked not to be named, told Building his firm was owed £46,000 in retentions and a further £170,000 in missing payments on a scheme it was working on in Northamptonshire called Chester Farm (pictured).
But the firm is not listed as a creditor in FRP's 26-page creditors report and admitted it was unlikely to try and prove the outstanding debt, given FRP expects non-preferential creditors to only see 0.39p in every £1 returned.
"It would be a waste of time for subcontractors proving the actual debt owed and throwing good money after bad," he added.
FRP declined to comment but is understood to be expecting the creditors' list it drew up on 17 July, the date listed on the documents filed at Companies House, to expand as more firms submit proof of debt forms to it.
Shaylor had a £8.6m deal with Northampton county council for the Chester Farm work which involves creating a heritage centre, including café, classrooms and training venue, at a 17th century farmhouse at Irchester near Wellingborough.
The subcontractor added: "This project was running at least 15 months behind schedule and was still way off completion when Shaylor went into administration. The delays and disruption by Shaylor caused us losses and expense.
"[Shaylor] were trying to wrap every subcontractor's claim up into one deal with Northants council. We were at the point of suing when they went under but have no idea whether they [Shaylor] received any monies themselves from the council for claims."
A council spokesperson said: "The authority is currently in discussion with the Shaylor Group administrators to reach agreement on the final account. It is therefore not appropriate to make any comment on what has been paid by the authority and what may or may not be outstanding until these discussions have been concluded.
"The appointment of any new contractor will be progressed at the appropriate time, taking into account all the relevant circumstances. The authority will seek to ensure the best outcomes for local businesses and any subcontractors who may have been involved."
More than 650 firms are listed as creditors, with only Allied Irish Bank down as a preferential creditor – although it has been warned not to expect getting all of its missing money back.
Shaylor collapsed in June after more than 50 years of trading, with the loss of over 200 jobs.