SME profile: Midlands-based O'Brien Contractors has surpassed its pre-recession revenue peak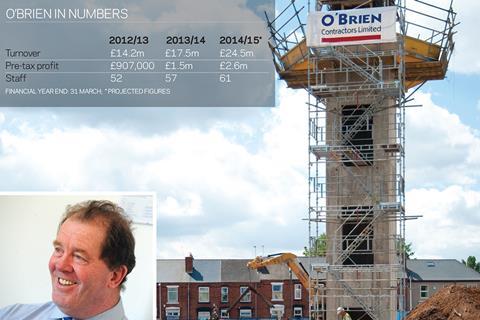 Fast-growing small contractor O'Brien Contractors is forecasting it will nearly double pre-tax profit and boost revenue by 40% in this financial year.
The firm expects to turn over £24.5m in 2014/15 and rack up a pre-tax profit of £2.6m.
"It may seem like an overnight success, but to us it's not felt like that," says Peter O'Brien, managing director of O'Brien Contractors.
The Midlands-based firm has grown revenue 68% over five years to post revenue of £17.5m in its last financial year, with pre-tax profit leaping 20-fold to £1.5m over the same period.
After contracting by 40% in just one year in the throes of the recession, in 2008-09, the firm has since recovered quickly and raced past its pre-recession revenue peak last year. These positive financials helped the family-owned firm win the Contractor of the Year under £300m turnover at the 2014 Building Awards.
But O'Brien (pictured inset) prefers to characterise the firm's success as "methodical" rather than "overnight".
"It has been strategic, planned and the culmination of years of improvement through hard work," he says.
Reinvention
As the recession took hold, O'Brien embarked on a strategy to reinvent the business, turning it from a groundworks specialist to a principal contractor offering everything needed for a civil engineering project. It also upped investment in training and skills "rather than cutting it", retained its directly-employed labour force and made a big marketing push to reach new clients, O'Brien explains.
Leamington Spa-based O'Brien was founded in 1958 by Tom O'Brien and is now owned by the second generation of the O'Brien family, brothers Peter and Mick O'Brien, with Stuart Chamberlain and Phil Griffiths becoming shareholding directors in 2012.
It operates across the Midlands, taking on jobs valued between £250,000 and £10m, and offers pre-construction services, design and build, sport pitch construction, traditional contracting and plant hire.
The firm primarily works in education, leisure, commercial, manufacturing and infrastructure.
O'Brien's work as a principal contractor now makes up 30-40% of the firm's turnover, according to O'Brien. This work is typically design and build infrastructure and public realm improvement jobs.
"We viewed the recession as an opportunity and planned for the subsequent upturn," O'Brien says. "In a downturn, clients are less active, they are more receptive to changes in their supply chain as they are more focused on value.
"We found out what organisations didn't like about their supply chains and we attained new clients that we have developed strong and long-term relationships with. In many ways, the recession was good for us."
The firm now deliberately targets "larger value contracts" and is also an advocate of "early contractor involvement".
"Long-term relationships bring trust and collaboration which is essential if project objectives are to be achieved," O'Brien says.
Despite its diversification into principal contracting in recent years, traditional subcontracting remains 50-60% of the business, and its largest contracts remain in this area. These include an £11msubcontract on John Sisk & Son's £200m coffee manufacturing centre for Nestle in Derbyshire and a £6m subcontract for Morgan Sindall's 150,000ft2 Marks & Spencer store at Longbridge. Meanwhile, the firm's specialist sport pitch construction division generates 10% of turnover.
Local investment
O'Brien has invested more than £4m in training, plant, equipment and technology in the past four years, according to O'Brien.
He says the firm carries out most of its work using directly employed workers, rather than subcontracted labour. "For us, it's all about continual improvement," he says. "To be a leader in your field, we believe you should focus on your core competencies and you need the best workforce."
He's bullish about prospects for the Midlands market, and particularly its manufacturing sector. He says: "The Midlands market is looking buoyant. There seems to be more confidence, we are securing more high-value contracts and receiving far more live jobs than tenders to price."
O'Brien is not tempted to join the stampede of regional contractors to London. "We don't need to go into London where we don't have the relationships," he says. "You need those local relationships to get the best service, the best procurement deals and innovation through suppliers. We want to be the best SME in the Midlands."