Manchester-based contractor's collapse sees creditors only paid up to 22p of every pound owed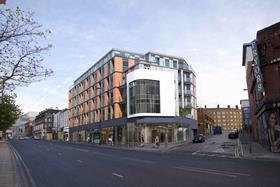 Trade creditors have been left £4.3m out of pocket by the collapse of Manchester-based contractor Ocon, a creditors report by administrator Mazars has revealed.
Mazars has found £1.5m to pay trade creditors – short of the total £5.8m owed, leaving a £4.3m shortfall.
A creditors meeting took place yesterday at which creditors accepted the proposals, which will see them paid 14-22p for every pound owed, the administrator said this morning.
Ocon was the £41m-turnover building arm of property group Opal. Ernst & Young was appointed administrator of 13 further Opal Group companies, also in March.
Mazars said Ocon collapsed due to challenging trading conditions, public spending cuts and reduced availability of funding from lenders.
A month before Ocon fell into administration, the firm and the University of Liverpool together set up a separate company to finish Ocon's largest job, a £50m accommodation block named Crown Place. Mazars said 15 members of staff were novated to the company.
Of the remaining 49 staff, 14 have been retained by the administrators, 33 have been made redundant and two left the company.
Ocon specialised in student accommodation, hotels, offices and retail construction.