Contractor says nearby businesses were given warning about the work
Workers in City office buildings are feeling the effects of work being carried out by Laing O'Rourke to wrap up construction at its Liverpool Street Crossrail site.
People working in Finsbury Circus have said they have been experiencing vibrations from construction work on the Crossrail site, with one worker saying he was affected in a sixth-floor office.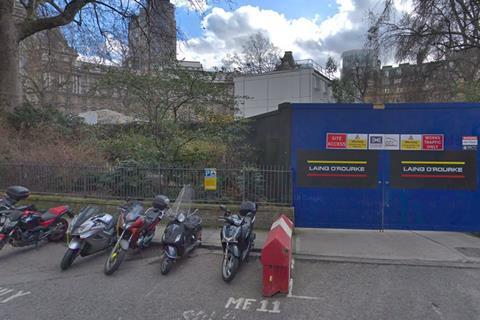 Last week Crossrail confirmed the late-running £17.6bn scheme would not open until sometime between October 2020 and March 2021.
A spokesperson for Crossrail said the vibrations were being caused by Laing O'Rourke breaking up concrete in Finsbury Circus as part of their site demobilisation.
Finsbury Circus has been used as an access and logistics site for the construction of the new station.
But Laing O'Rourke has said that businesses were pre-warned about the impending works, with a newsletter issued the week before work started on 25 March.
A spokesperson for the contractor said: "As works draw to a close at Liverpool Street, we are currently reinstating Finsbury Circus, which involves the breaking up and removal of a deep concrete section that has covered the area for the duration of the station's construction."
The firm said this element of the works was "unavoidably noisy" but "sincerely apologise[d] for any disruption caused".
Laing O'Rourke said the works, which will continue until September, are being carried out between 8am and 6pm Monday to Friday and between 8am and 1pm on Saturdays.
The contractor said it had agreed that work would not be carried out during "City hours" – 10am to 12pm and 2pm to 4pm – during the working week.