Poll reveals 34% of public have a greater appreciation of the profession after Olympic achievements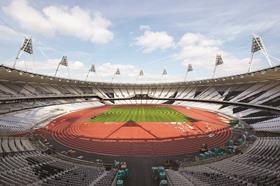 The Olympics has boosted the public image of civil engineering, a survey for the Institution of Civil Engineers (ICE) reveals.
The survey of 2,000 people by polling firm ComRes found that 34% felt the profession's role in the Olympics had given them a greater appreciation of the importance of civil engineering to society.
Plus, 53% of people said they no longer think of civil engineering as only being concerned with bridges.
Over a third said they would encourage their children into the profession.
Richard Coackley, president of the ICE, said: "If anything could excite and inspire young people to pursue civil engineering as a career it's the Olympic and Paralympic Games - a true feat of engineering in every sense."
Mayor of London Boris Johnson added: "Constructing a landmark venue like the Olympic Park has provided a once in a lifetime opportunity to show the world the level of skill and ingenuity that our civil engineers possess. I am delighted that staging the games has helped to raise the public profile of a profession that has so much to be proud of."
As well as helping to design and build the venues civil engineering work on the Olympic park includes building 30 new bridges, restoring 8.35km of waterways and building 1.8km of sewer tunnels underneath the site.