Developer signs deal with London Legacy Development Corporation and will start work in 2014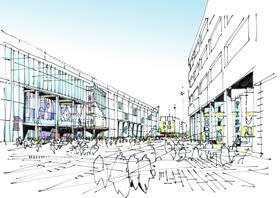 The London Olympic press and broadcast centres are to get a £100m revamp after developer iCity signed a deal with the London Legacy Development Corporation.
The firm announced the deal would see it pour funding into reconfiguring the centres into a hub for digital and creative industries in the east end of London.
Gavin Poole, chief executive of iCITY, said he wanted the development to be "at the heart of the economic and social legacy" of the London Olympics.
He added: "It will provide much needed infrastructure, commercial space and capacity for the digital and creative industries, the UK's fastest growing sectors of the economy, as well as much needed studio space in London. These buildings present an incredible opportunity to the creative and media sector enjoying unrivalled connectivity and power."
Mayor of London, Boris Johnson, said iCity was "the final jewel in the crown of Queen Elizabeth Olympic Park".
The developer is expected to take over possession of centres in early 2014 to begin the work on transforming the buildings.
Over 40% of the space has already been pre-let to tenants including Loughborough University, Hackney community College and BT Sport.