The 6,870-home proposals for the redevelopment of the Olympic park received planning permission last night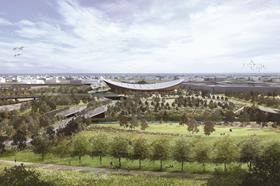 The 6,870-home proposals for the redevelopment of the Olympic park received the green light from the planning authority for the area last night, despite Hackney council's objections.
The London Legacy Development Corporation (LLDC), which takes over the Olympic Park in October, confirmed that the Olympic Delivery Authority's Planning Decisions Team, the planning authority for the area, have approved outline planning proposals for the development of the park after the Games.
The decision was made by the ODA's planning committee last night, which includes members from each of the four local boroughs
The planning permission came despite objections from Hackney council, which wrote to the planners on 1 June saying it was "concerned that the proposals in too many fundamental ways do not deliver the legacy that Hackney wanted to see" and that it had resolved to object.
Other London boroughs affected by the scheme, including Newham, had withdrawn initial objections following amendments made in February to address concerns over how the plan fitted with local economic growth targets.
The OPLC said the decision meant it was now on course to develop the first neighbourhood, Chobham Mano,r after the Games finish, with the first family homes set to be ready at the end of 2014.
Andrew Altman, LLDC chief executive said: "This decision represents a giant step forward for east London's future and the culmination of years of hard work with the local communities and host Olympic boroughs.
"We can now realise the vision of creating a new piece of the city that will transform people's lives with new opportunities."
The Mayor of London Boris Johnson, said: "This is a huge step forward in turning the vision for the development of Queen Elizabeth Olympic Park into a reality that will revolutionise the face of East London and deliver a lasting legacy for the capital.
"Creating a fantastic new community in which thousands of people can live and work, it is without doubt the most important regeneration project that the city has seen in 25 years."