New residents of athletes' village raise objections to a series of planned residential towers at the Olympic Park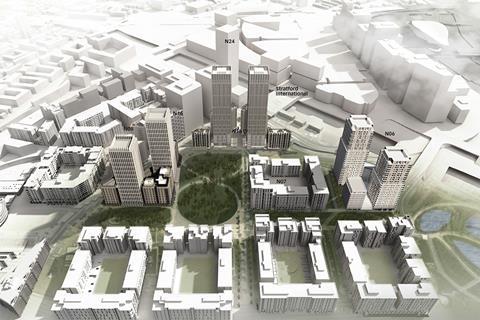 The first residents of east London's Olympic Park have begun voicing their opposition to the level of development proposed for the area – particularly high-rise tower blocks.
It is less than one year since the first residents moved into homes converted from the medium-rise blocks used for the 2012 Olympic Games' Athletes Village – now christened East Village.
But a significant number are already objecting to detailed proposals to build out parts of the site – even though the schemes have already been granted outline planning permission for development in a zonal masterplan approved before Athletes Village homes were ever marketed.
Some residents have objected to particular scheme revisions, such as height increases on towers proposed by developer Qatari Diar Delancey that would see up to 27m in height added to some blocks, exceeding original masterplan restrictions.
Others have sought to ensure particular conditions were placed on site hours for particular schemes.
But several residents have demanded that the construction of tower blocks on the park be refused altogether, and others have reported being told by marketing professionals that particular plots zoned for development would never be built on.
The London Legacy Development Corporation (LLDC) is the planning authority for the former Olympic area.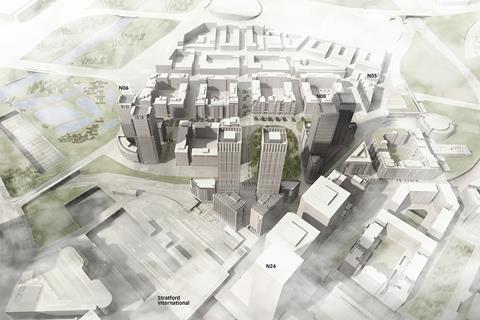 Last month it approved a reserved-matters application from Qatari Diar Delancey covering the details of a 30-storey, 481-home tower on land off East Village's Centenary Way (identified as plot No8 above), after determining that it was acceptable for the structure's 126.7m height to exceed guidance for the area by around 10m.
Fourteen individual letters and one 38-name petition were received objecting to the scheme, designed by architect Lifschutz Davidson Sandilands, questioning the need for additional high-rise development in the capital, expressing fears over the loss of light, and bemoaning the effects on the "village character" of the area.
East Village resident Ben Steer told planning officers in a letter that he had been explicitly told by the firm marketing his apartment that development on the site of the approved 30-storey block was "unlikely" and that a policy had been adopted of "not allowing construction on land where trees were maturing".
In another letter, resident Emily Evans said she had been "shocked" to have seen a model of the development after paying the deposit to buy her East Village flat and felt "cheated and scammed" as a first-time buyer.
"What was a joyous celebration when moving in is now tinged with great disappointment," she said.
Another resident dubbed the tower "a monstrosity" and said the existence of the proposals had not been made clear during the purchase of their apartment.
Alex Hilton, who rents an "affordable" apartment at East Village and co-ordinated the residents' petition, told Building he was disappointed at the level of development.
"I feel I've been duped into renting what will overlook a building site for a year. I'd feel better if the new block were affordable housing because at least it would be helping sort out London's housing crisis, but it isn't, so I feel like giving my notice as soon as the building works start and wish them luck getting the same rent out of the following tenant.
"This entire legacy project seems focused on making a small number of property developers very rich at residents' expense."
In the near term, residents' opposition is unlikely to subside as Qatari Diar Delancey is currently awaiting approval for reserved-matters applications relating to two additional East Park schemes.
One includes 422 homes in a development with residential towers of 29 and 24 storeys (identified as plot No6 above).
Another is for for 710 new homes in a scheme including two tower blocks of up to 36 storeys in height (plot N18 and N19 above), both of which would exceed zonal masterplan height limits by around 27m.
The LLDC declined to comment on the concerns being expressed by East Village residents.
Qatari Diar referred requests for comment to Get Living London, the subsidiary it operates with property investor Delancey that rents out East Village homes.
Get Living London did not respond to Building's request for comment.