London Planning Awards recognises 2012 achievement and honours work of architect Sir Terry Farrell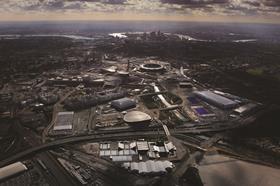 The 2012 Olympic Park has scooped the London mayor's award for 'planning excellence' at the annual London Planning Awards.
In a ceremony at City Hall last night, architect Sir Terry Farrell was also recognised for his "special contribution" to planning and development in the city over the last decade.
The 102ha park, now known as the Queen Elizabeth Olympic Park, was a huge technical challenge to create given the previous level of contamination found on the site, in Stratford.
It is now being transformed to provide up to eight permanent venues for major concerts and sporting events as well as thousands of new homes in five new neighbourhoods complete with new schools and health facilities.
This will create jobs including a 2,500-strong temporary construction workforce.
Other winners included Kings Cross station for best built project, the Aylesbury Estate Regeneration Phase 1 for best new place to live, Leyton Town Centre for best town centre project, The Roundhouse for best built project five years on, and Ladywell Fields in Lewisham for best new public space.
Mayor Boris Johnson, said: "This award is for every one of the thousands of people and organisations who have contributed to the overwhelming success of the Olympic Park design. They have delivered a brand new district for London which is admired the world over and laid the foundations for an amazing legacy for this great city.
"Yet again the standard of entries this year is excellent. From town centres to public buildings and new green spaces, the variety and quality of the submitted projects gives me great confidence and excitement about the fantastic transformations we are seeing in every corner of this great city.
"This year I am particularly delighted to be able to recognise the exceptional work of Sir Terry Farrell who has made an incredible contribution to London's public realm which is enjoyed by Londoners and visitors from around the world."
Farrell has worked on masterplans including Earls Court, Holborn, Nine Elms, Vauxhall, Wood Wharf and Old Oak Common, as well as influencing thinking through voluntary initiatives and "visioning" for The Royal Parks, Buckingham Palace, Marylebone/Euston Road and the Thames Gateway.
The annual London Planning Awards are jointly run by the Mayor and London First, the Royal Town Planning Institute (RTPI), and London Councils.
Full list of winners below:
Full list of winners

CATEGORY 1: BEST BUILT PROJECTsponsored by CBRE

COMMENDED

For its major contribution to last year's Olympic and Paralympic experience, and its ongoing role in regenerating east London, a Best Built Project commendation goes toWestfield Stratford Citysubmitted by Westfield with the London Borough of Newham, the ODA Planning Decisions Team, RPS and Ashurst.

WINNER

For its audacious and awe-inspiring integration of the finest railway heritage with cutting-edge modern design, the winner of the Best Built Project award is Kings Cross Station submitted by Network Rail and the London Borough of Camden, together with John McAslan and Partners, and English Heritage.

CATEGORY 2: BEST BUILT PROJECT COMMUNITY SCALEsponsored by Land Securities

COMMENDED

For its inspirational response to the complex challenges of life in the city, a Best Built Project Community Scale commendation goes toDysons Road Community Hubsubmitted by the Diocese of London, together with the London Borough of Enfield and Wilson Stephen Associates.

WINNER

Rightly perceived as the jewel in the crown of Deptford's regeneration, the winner of the Best Built Project Community Scale award is Tidemill Academy and Deptford Lounge submitted by Pollard Thomas Edwards architects, with the London Borough of Lewisham.

CATEGORY 3: BEST CONCEPTUAL PROJECTsponsored by Berwin Leighton Paisner

COMMENDED

For its thoughtful and fine-grained approach to the design of spaces and connections in a complex urban setting, a Best Conceptual Project commendation goes to Embassy Gardens submitted by Terry Farrell & Partners, with Ballymore and Farrells.
WINNER

For rising to the post-Olympic challenge - and successfully grasping the baton - the winner of the Best Conceptual Project award is the Legacy Communities Scheme submitted by AECOM with the London Legacy Development Corporation and the Allies & Morrison-led consortium.

CATEGORY 4: BEST NEW PUBLIC SPACEsponsored by Hogan Lovells

COMMENDED

For its unique combination of civic grandeur and playful informality, a Best New Public Space commendation goes toGranary Square, Kings Cross N1C submitted by Argent (King's Cross) Ltd, together with King's Cross Central Limited Partnership, Townshend Landscape Architects and Fountain Workshop .
WINNER

For its spellbinding riverine transformation and superbly executed pastoral vision the winner of the Best New Public Space award is Ladywell Fields, Lewisham submitted by BDP, with the London Borough of Lewisham.

CATEGORY 5: BEST NEW PLACE TO LIVEsponsored by Ardmore Group

COMMENDED

For its impressive community-led approach to inner city regeneration, and its carefully-considered urban form, a Best New Place to Live commendation goes to The regeneration of Packington Estate submitted by Rydon, with the Hyde Group.

WINNER

Standing as a proud testament to the merits of inspirational and robust design-led place-making, the winner of Best New Place to Live award is Aylesbury Estate Regeneration Phase 1A submitted by Levitt Bernstein Associates Ltd, with L&Q Group, PH Warr, Durkan Ltd and Alan Conisbee & Associates.

CATEGORY 6: BEST BUILT PROJECT FIVE YEARS ONsponsored by GVA

COMMENDED

For the depth of its community involvement, and the breadth of its sustained transformation, a Best Built Project Five Years On commendation goes to Stonebridge Estate Regeneration, Brent 1996-2008submitted by Terrence O'Rourke Ltd, together with Hillside Housing Trust, Hyde Housing Group, Stonebridge Housing Action Trust, Shepheard Epstein Hunter, Countryside Properties Plc and the London Borough of Brent.

WINNER

Shining as a robust beacon of artistic endeavour, the winner of the Best Built Project Five Years On award isThe Roundhousesubmitted by the London Borough of Camden, with John McAslan and Partners.

CATEGORY 7: BEST HISTORIC BUILDING MANAGEMENTsponsored by English
Heritage

WINNER

For its majestic, but sensitive, refurbishment of a highly complex group of listed buildings, the winner of the Best Historic Building Management award is Quadrant 3 submitted by the Crown Estate, with Dixon Jones, Donald Insall and Stanhope.

CATEGORY 8: BEST TOWN CENTRE PROJECTsponsored by Nathaniel Lichfield & Partners

WINNER

With its exemplary and inspirational approach to inner city high street regeneration, the winner of our inaugural Best Town Centre Project award is Leyton Town Centre, Waltham Forest submitted by Waltham Forest Council, with Waltham Forest Business Board, Lee Valley Estates and Jan Kattein Architects.

CATEGORY 9: MAYOR'S PLANNING AWARD

WINNER for its dramatic transformation of east London and its spectacular showcasing of world-class planning, design and engineering skills, the Mayor's Award for Planning Excellence goes to London 2012 Olympic Park submitted by AECOM and the London Legacy Development Corporation, with the former ODA Planning Decisions Team and the AECOM-led consortium: LDA Design with Hargreaves Associates, Arup and Atkins.

CATEGORY 10: AWARD FOR SPECIAL CONTRIBUTION TO PLANNING AND DEVELOPMENT OVER TEN YEARS

COMMENDED
Responsible for his company's developments nationally in the 1990s, since 2001 he has jointly led the regeneration of one of the capital's largest and most complex development areas, a 'Greatest Contribution to Planning and Development over the Last 10 years' commendation goes to Argent's Roger Madelin.
WINNER
For the Greatest Contribution to Planning and Development over the Last 10 years award goes to Sir Terry Farrell.