UK arm of Populous also reports shrinking revenue in "difficult economic situation"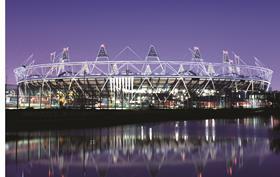 The UK arm of architect Populous, which designed the London Olympic stadium, has reported an 82% fall in pre-tax profit in 2012.
In accounts filed at Companies House, Populous Limited reported a pre-tax profit of £173,404 in the year to 31 December 2012, down from £984,484 in 2011.
The firm reported revenue of £16.5m, down from £19m the previous year - a fall of 13%.
Senior principal Christopher Lee said the fall in revenue was "a reflection of the very difficult economic situation".
He added: "Expansion into Russia, Middle East and the Far East continues to develop positively and further investment in these markets is showing positive signs of yielding significant growth in fees."
Overseas revenue performance for the UK business varied widely between regions.
Revenue from India nearly tripled to £742,974 from £251,263. But revenue from Korea (£28,000) and the Middle East (£685,000) fell 90% and 62% respectively.
Revenue in the UK and Europe fell 9% to £7.8m leaving the region comfortably the firm's biggest.
The firm reported a fall in staff numbers over the year from an average number of architects from 132 in 2011 to 106 in 2012.
Lee said: "The London Olympics was always going to be a special event for us both architecturally and financially and we planned on some reduction after it was all over. However commissions have increased in other parts of the world to compensate so our reductions were not as great as expected.
"We are also in the process of rolling out our pre-tax staff bonus and incentive programme and this accounts for much of our change in taxable profits."