Union official accuses ODA boss Dennis Hone of giving 'misleading' evidence in front of London Assembly committee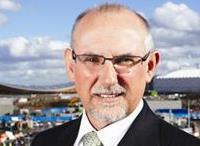 The chief executive of the Olympic Delivery Authority is facing new questions on alleged blacklisting on the 2012 Olympics project after a senior union official criticised the evidence he gave to the London Assembly on the subject.
Dennis Hone (pictured) appeared before the assembly's budget and performance committee last week and was asked about reports that blacklisting of workers took place on the Olympics project.
Hone replied: "I can say that the ODA did not receive any evidence - or could find any evidence - of blacklisting on the Olympic park during the construction phase or otherwise. If we had, we would have gone after that."
However, RMT assistant general secretary Steve Hedley said he would write to the committee to complain about Hone's "misleading" evidence.
Hedley said that he was part of a group that went to the ODA's offices in Stratford, east London, in March last year to highlight the alleged blacklisting, including the dismissal of Media Centre electrician Frank Morris.
Hedley said: "They would not let us in and got security to shut the gates. Everyone going into the offices was leafleted so he is talking rubbish. They didn't want to know."
Morris claimed he was removed from the Olympic project by M&E specialist Daletech after raising concerns about a fellow worker, who Morris said was dismissed because he was on a blacklist.
At the time, Daletech said it "categorically" denied the use of blacklists within its business.
Chairman of the committee, John Biggs, said he now intends to question Hone further.
"Where allegations like this are made, people should be looking urgently for evidence if they are committed to upholding people's human rights," he said.
An ODA spokesperson said the organisation had "been aware" of union concerns over blacklisting and the Frank Morris case.
He added: "Had we received proof of specific cases we clearly would have begun an investigation. Blacklisting is not a practice we would have supported."