Practice designs new building in Berlin to house 3,500 staff for German firm Axel Springer
Publisher Axel Springer has unveiled designs by OMA for a new building in Berlin.
The office, which is located on the site of the former Linden park, opposite the existing Axel Springer HQ, will be able to accommodate 3,500 employees when complete and features a 30m-high atrium with 3D façade elements running diagonally through the centre of the building.
OMA won the race to design the new building, which will house the publisher's growing business divisions and digital offers, while reflecting a modern working environment, in 2014 and has seen Rem Koolhaas, Chris van Duijn, and Katrin Betschinger act as project leads.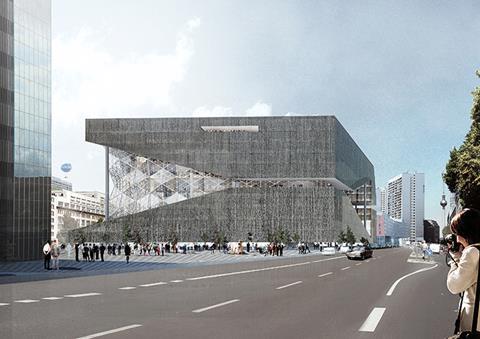 Speaking of the project Koolhaas said: "Over the years, Berlin has been a profound source of inspiration, and with Axel Springer we are thrilled to continue our long engagement with this city.
"We are lucky to have a client who views architecture as an instrument of change, and with this building, we hope to address a central dilemma of the contemporary office: as computer-based work has become largely intangible and silent, how can people effectively communicate in a workspace which fosters both concentration and vigorous interaction?"
Axel Springer publishes more than 200 newspapers and magazines across Europe, including German tabloid Bild.