Companies hope for end of restrictions next week but plan to continue flexible working arrangements
A significant proportion of construction workers contracted covid at the end of last year but firms are hopeful that the worst is now over and restrictions will be lifted next week.
A snap poll conducted by Building revealed that 65% of businesses were affected by the Omicron variant, with staff generally working from home and higher than usual absences.
One said: "Ease of working from home coupled with milder symptoms following vaccination has resulted in many staff deciding to work from home while in isolation."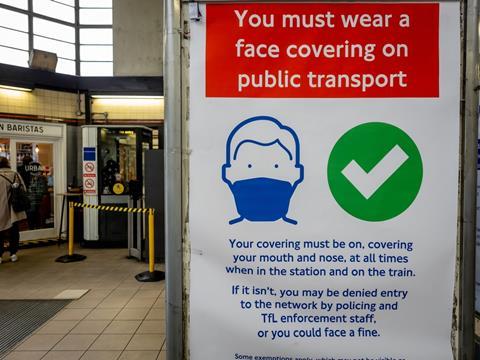 Brendan Kilpatrick, senior partner at architect PRP, said there had been "quite a lot of illness in the office in the last few weeks of December" because of covid. But staff had been able to work at home because of working arrangements already in place.
One major contractor, who did not wish to be named, said because much of the Omicron wave had been over the festive break meaning disruption was less than feared.
Earlier this month, several economists warned that sites may have to temporarily close if too many workers were being forced to self-isolate under new covid rules.
Max Jones, a director of Lloyds Bank's infrastructure and construction team, said: "[It's] a surge in cases that could halt work on projects [which is] the worry. If that combines with a weather-induced slowdown it could make for a volatile start to the new year."
And KPMG head of infrastructure, building and construction Jan Crosby warned: "Workers needing to self-isolate will likely result in project delays or even the temporary closure of some sites."
But in its latest report on architects' sentiment, the RIBA's head of economic research Adrian Malleson said "early indications suggest that despite [Omicron's] very high infection rates, the hit to the economy will be significantly less than that of previous waves".
Simon Bimpson, UK country director at Arcadis, said his company already had a flexible working policy in place allowing people to work from home, which meant that "throughout the pandemic we have been able to operate a 'business as usual' approach".
"The pandemic only reinforced our commitment to embrace remote and fully flexible ways of working," he added.
Andy Barker, Aecom's chief operating officer, Europe and India, said his company already had a "flexible working environment to provide employees with the support they need, whether that is at home or in an office" before covid.
Aecom also has a covid information centre where employees can access information about working during a pandemic. Barker added the firm had asked employees to think twice before travelling which also helped cut down any unnecessary trips – and help it meet sustainability targets.
A Morgan Sindall spokesperson told Building that the group "had not experienced significant disruption on our sites".
She added: "We introduced a number of measures during the earlier stages of the pandemic and, along with strong relationships with our supply chain, these have enabled us to keep our sites open and operating, even achieving more efficiencies."
Firms have spent January following government guidance, which is due to reviewed next Wednesday, and advising staff to work from home.
One respondent told the Building survey said: "We have encouraged staff to follow government advice and work from home where possible. Regular cleaning of the offices, sanitising stations and social distancing measures remain in place."
Another said their business was regularly "testing to reduce the spread of the variant, social distancing between the desks throughout the office [and] keeping windows open during the day".
Companies have said they are committed to keeping flexible working arrangements in place after the Omicron wave passes and the threat from the pandemic reduces.
Bimpson said Arcadis's new offices in the City, which it moved into last summer from King's Cross, had been built around the likelihood of more people working from home and elsewhere.
"Our new office has been designed around the concept of 'activity-based' working," he added. "This means we're providing over 20 different types of workspace, all facilitated by technology, so that people can find the right space to suit their needs."
Kilpatrick said he was confident the government would ease restrictions next week and PRP staff would go back to working four days a week in the office, with this looking likely to remain company policy into the future.
The City of London this month reported a strong post-pandemic interest in office space, with 70% more approved for the Square Mile last year compared to 2020.
It said developers were commissioning architects to create new types of space – rather than just rows of desk. There were, it added, "emerging trends for post-pandemic office space delivering a 'workplace destination'" which included retail, cultural, public art and open space.