Praxis Holdings secures planning permission for one million sq ft development in Whitebirk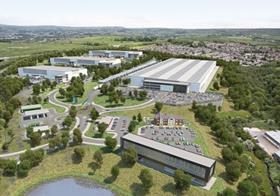 Property developer Praxis Holdings has won planning permission for a one million sq ft business park in Whitebirk, Lancashire.
Called Frontier Park, the mixed-use development will have both industrial and distributional business units, as well as 35,000 sq ft for a hotel and food and leisure outlets.
Praxis has already pre-let five acres of the 85 acre site, including the hotel space to a budget hotel operator.
The development is a key component of Lancashire's Strategic Economic Plan, which aims to maximise the economic potential of the region by generating around 10,000 jobs and providing £500m in revenue to the region.
Frontier Park is expected to create around 2,000 jobs.
Preparatory work on the site are expected to begin before the end of 2015, with the initial phase of construction expected to start in 2016.
Praxis expects the first building on the site to be occupied by the end of 2017 and the development to be completed within five years.
Gabriel McLaughlin, director and head of asset management at Praxis, said: "Frontier Park is a major development proposition that is not only exciting for us as developers, but also for Lancashire given it will create thousands of jobs for local people and encourage substantial inward investment.
"Now that we have secured planning permission we intend to hit the ground running to turn these plans into a reality.
"We will continue to work closely with the council, as well as local businesses and communities, to maximise the potential of this site and attract high-quality commercial occupiers."