Firms looks at increasing more build to rent work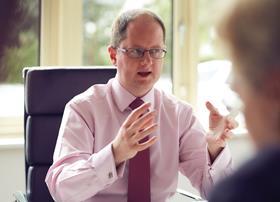 Telford Homes hit record levels of turnover and profit last year as the AIM-listed housebuilder reaped the benefits of a booming London market.
Revenue was up 8% with pre-tax profit up a third to £46m in the year to 31 March 2018 with the firm predicting that the burgeoning build to rent market would see it post profits in excess of £50m over the next three years.
Chief executive Jon Di-Stefano hailed ongoing demand in the capital and added: "Our growth is underpinned by the under supply of new homes in London and robust demand at more affordable price points, particularly for rental housing."
The firm said more UK buyers were snapping up homes in London developments such as its New Garden Quarter scheme in Stratford where more than 100 homes were reserved over the space of three weeks in January.
Di-Stefano (pictured) added: "We are seeing growing investment from China due to the continued international attraction of London, despite Brexit, and strong rental demand relative to supply."
But he warned that homes priced above £750,000 were taking longer to sell, adding that the firm has held back a number of sales launches "due to the number of developments being sold for build to rent rather than individual sale".
The number of homes it completed last year was up to 476 from 289.
The firm is also eyeing a bigger slice of the build to rent market where it has been working with US rental housing firm Greystar since last summer on a build to rent scheme to develop 900 homes at the Nine Elms redevelopment in Battersea.
Telford sold one of its first private rented sector schemes to housing association L&Q two years ago with the development called the Pavilions on north London's Caledonian Road due to complete later this year.
Di-Stefano said: "We are increasingly being approached directly by institutions and rental operators seeking investment opportunities and each trying to achieve significant scale as swiftly as possible.
"The board continues to evaluate whether longer term partnerships with one or more of these investors could enhance our ability to undertake build to rent transactions and further grow that side of the business."
He added: "Without the advent of build to rent we would not have been able to achieve consistency of profits and would instead have fluctuated around an overall upward trend."
Operating margins were up to 16.7% from 13.4% last time.