Pair looking at initiatives to get emissions down during production process
Laing O'Rourke has started a project to decarbonise manufactured concrete components used in construction.
The contractor has secured a grant to co-fund the work from the UK's Industrial Energy Transformation Fund, which is managed by the business department, and is designed to help businesses cut their energy usage and carbon emissions by investing in energy efficiency and low carbon technologies.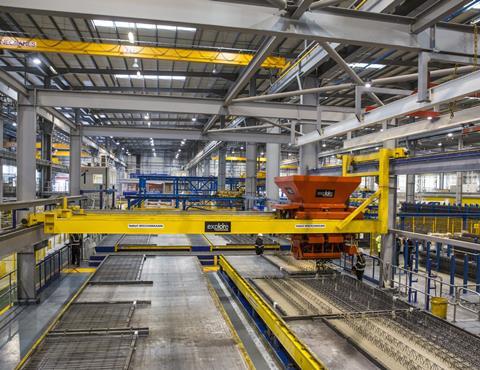 The project involves a comprehensive study into carbon reduction at Laing O'Rourke's centre of excellence for modern construction in Steetley, Nottinghamshire.
The facility employs 400 people and will be working in a consortium with experts from the University of Cambridge and the University of Sheffield's Advanced Manufacturing Research Centre.
Laing O'Rourke will investigate each step of the production process, from the use of low carbon concrete, steel and aggregate materials and technologies, to the systems used to create formwork and cure products.
The announcement comes a week after Mace announced it was spearheading research into cement-free concrete technology that reduces the embodied carbon of a construction project by 78%, in partnership with UKRI's Transforming Foundation Industries programme.
The new technology, which is being developed with industry partners AKTll, Hare, Oranmore Precast, Converge, DB Group and UCL, combines Cemfree concrete and low energy Electric Arc Furnace steel in cement free concrete cassettes.
Mace is designing and testing the first prototype cassettes at its offsite factory in Brandon, Suffolk.
During this trial stage, the team has fixed sensors within the prototype, aiming to find efficiencies in the materials used and further reduce the embodied carbon.
The tests have already shown a further carbon reduction in the steel reinforcements used in the structural cassettes, helping to generate improvements in overall embodied carbon efficiency of a project, whilst maintaining the same structural properties.