Piling work underway on £400m Lendlease scheme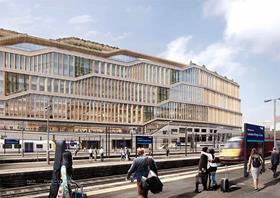 Details of the main subcontract packages on Lendlease's scheme to build Google's £650m new London headquarters are now beginning to emerge.
The awards have been shrouded in secrecy with only the steelwork package – a £50m deal for Severfield – being confirmed so far.
Site hoardings have gone up at the King's Cross development but there is no reference to the job itself on them. Instead, the scheme is known as KGX1.
Lendlease declined to comment but Laing O'Rourke-owned Expanded has begun work on the piling contract and is due to take delivery of huge rig, understood to be the largest being used on any job in the country, in the next couple of weeks.
And Building understands O'Rourke's pre-cast concrete business has also been lined up for work at the scheme which is believed to carry an overall construction pricetag of £400m.
Up to 20,000 tonnes of steel will be used on the job with Severfield due to start in earnest once its work on Spurs' new football ground winds down later this summer.
The tech giant's King's Cross home has been redesigned by US-Danish architect BIG and Heatherwick Studio after Google decided to tear up the original plans put together by AHMM. The executive architect is BDP.
As part of the decision to redraw the scheme, the job was retendered with Lendlease beating Mace, Multiplex and Sir Robert McAlpine to the deal.
The site at King's Cross occupies a plot to the north of the station with railway lines running to one side of it and King's Boulevard, which includes David Chipperfield's One Pancras Square, built by Bam, the firm that was lined up to carry out the Google job before it got redrawn, on the other.
The 330m-long 10-storey groundscraper will cover 650,000sq ft of office space at what will be Google's third building at developer Argent's 67-acre regeneration scheme.