Firm has trialled initiative on its HS2 and Hinkley jobs as part of effort to deal with coronavirus threat
Laing O'Rourke plans to use temperature checking thermal cameras at its two main offices in Dartford and Manchester once it has completed a roll-out of the technology across its sites in the wake of the ongoing covid-19 threat.
Most of the firm's sites, which number around 60, are back up and running with the main exception being its Edinburgh St James mixed-use scheme where the Scottish government has banned all non-essential construction work, although restrictions north of the border are beginning to be loosened.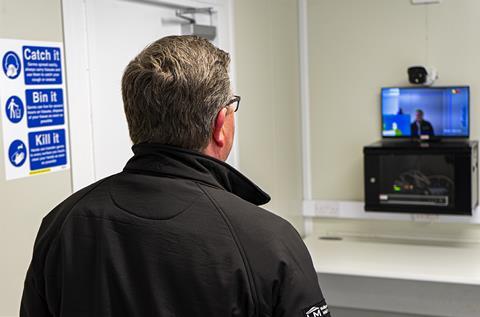 O'Rourke has around 600 staff at its Dartford head office while its site at Sale, on the outskirts of Manchester, has 100 staff.
The cameras will scan staff as they come into work – although a spokesperson said most office-based staff were still working from home.
The technology is first being rolled out across the firm's sites having been trialled at its HS2 and Hinkley Point C jobs as well as its manufacturing facility, Explore Industrial Park, in Nottinghamshire.
The cameras which are installed into purpose built modular units, developed by the firm's plant arm Select, are situated at site entrances as workers clock on.
The units measure skin temperature with a green light indicating that the person is within normal range. Where a temperature above the upper limit is triggered, the individual is asked to rest before a second check is carried out – and if a repeat positive is indicated they are then asked to return home and apply for a coronavirus test.
O'Rourke said it is now setting up the technology at more sites in the coming weeks including the Royal Liverpool Hospital, the scheme it took over from collapsed Carillion, the redevelopment of the Whiteleys shopping centre in west London along with its mixed-use Soho Place and Olympia projects also in the capital.
Steve Paskins, Laing O'Rourke's operation leader on the HS2 enabling works joint venture it has with Murphy, said: "We've found that the temperature checking units work quickly and accurately and while the system cannot detect if coronavirus is present, their ability to pick up a fever – one of the main symptoms of covid-19 – gives us, everyone on site, as well as their families, assurance that colleagues have all been checked before entering the project. The feedback has been good."
O'Rourke said the modular units will also be available for hire to other contractors at their sites as well.