Government locked in 'full-tilt' talks with EDF in bid to announce new-build nuclear funding agreement on Wednesday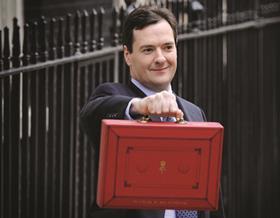 The government is holding frantic last minute talks with French utility firm EDF in the hope of unveiling a deal to build the £10bn nuclear power station at Hinkley Point in the budget statement on Wednesday.
Energy secretary Ed Davey will announce his decision on the 55,000 page Hinkley planning application today in Parliament, with an approval for the two planned nuclear reactors virtually guaranteed.
However, Building understands that officials at Davey's department and the Treasury have been pushing to urgently close a financial deal over the "strike price" – the price that the government will guarantee EDF will receive for the energy generated by the power station – which is necessary to allow the scheme to go ahead.
Two separate sources said "full-tilt" discussions had been ongoing for the last two weeks designed to allow chancellor George Osborne to unveil a whole or partial deal in the Budget. However, it is still not clear whether a deal will be done in time for the statement, which will be made at 12.30 on Wednesday.
As well as a strike price which will guarantee a return for EDF on the energy generated, the developer is in discussions to get a separate guarantee from the UK government to cover the financing of the construction amid fears that costs have escalated to as much as £14bn. EDF is thought to require a strike price of around £100 per megawatt hour, around double the current average cost of energy.
One source said that the government had "been moving at full tilt to get this deal tied down for the Budget." However, a separate source said these negotiations had encountered difficulty over recent days after the government questioned whether EDF could immediately finance the project even if a strike price was agreed. He said: "It's fair to say the discussions have gone really badly this week and it's not clear if Osborne will be able to announce anything at the budget."
Reports over the weekend said that EDF has threatened to walk out of the negotiations unless they are concluded within two weeks.
If financing is approved, Hinkley Point C would be the first new nuclear station to be built since Sizewell B in 1995, employing 25,000 people during construction. The site received its final environmental permits from the Environment Agency last week.
Contractors Laing O'Rourke and Bouygues have won the main £2bn civils job at Hinkley, with contractors McAlpine, Costain, Bam and Kier all also winning major roles. All are waiting for EDF to make its final investment decision before signing contracts and pressing ahead with construction.
A spokeswoman for the Department of Energy and Climate Change refused to confirm whether the government would be able to announce a deal in the Budget this week.
She said: "No commitment has been made on commercial terms or a strike price. Ongoing discussions are focused on finding a fair, affordable deal, which represents value for money for consumers. Any agreement reached will be laid before Parliament, and will include details of the strike price".