Osborne chief Andy Steele says he wants to follow success in luring Balfour Beatty team with further hires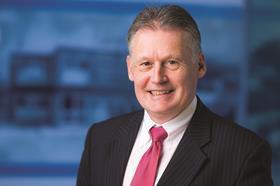 The new chief executive of contractor Osborne has said he is looking to make further hires of entire senior teams from rivals, following his success in luring a team of former Balfour Beatty executives over the summer.
Andy Steele (pictured), who stepped up from managing the firm's construction division to become chief executive of Osborne in March this year, said the former Balfour Beatty team, which includes senior directors Mike Peskin, Ron Moir and Colin Eke, will sit within Osborne's construction team.
Prior to 2010, Steele spent five years as chief executive of Stephen Scown Solicitors, and he said this type of hiring, known as "lateral hiring", was common in the legal profession, and was becoming more common in construction.
He said: "With Mike Peskin we've found a great team who can really help us. We're looking at good teams established in other businesses, and looking if they'll fit here. It can work very well if people are moving, but alongside people with which they're really established working together."
Steele said making hires in this way helped to reduce the risks inherent in bringing senior staff in from other businesses, but conceded this approach wasn't likely to win popularity contests with rivals. "In the legal space people have been doing this for years, it's just business. People will only join us if they think we've got something to add."
He said Peskin had been hired for his "network" and relationship skills, with Eke an expert on procurement, and Moir set to work with Osborne's design team. The three are director for major projects, bid director and director of design respectively.
Steele's comments come at a time of huge churn in contracting staff, with many firms complaining at the volume of poaching, particularly of senior staff. However, Steele said Osborne was also a big investor in training up new graduates to take on senior roles. "Ultimately re-circulating the current talent pool doesn't add a huge amount to the whole industry," he said.
Steele said the firm, which turned over £309m in the year to March 2014, was targeting balanced growth, and saw an opportunity to expand particularly in property services and development.