Chancellor eyes more Green Belt development and says bill to boost infrastructure will be published this week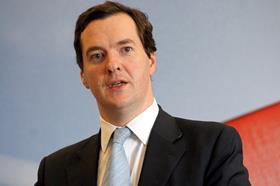 The government is set to introduce new proposals to accelerate planning decisions and free up Green Belt land for development to fuel economic recovery, chancellor George Osborne has revealed.
Speaking on the BBC's Andrew Marr show on Sunday, Osborne said new legislation to relax planning rules would be brought before parliament in the next fortnight – just months after the introduction of the National Planning Policy Framework.
The chancellor said the move would be part of efforts to speed up planning processes and to encourage local authorities to be more creative with their Green Belt designations.
"It is absolutely ludicrous that it takes years to get planning decisions in this country, you can get much faster decisions on the continent, let alone in countries like China," he said.
"This country in the current economic environment cannot afford to wait years for development.
"We have to do more, and we have to do it faster and in the next couple of weeks you will see us introduce legislation to speed up planning decisions, to speed up the processes that mean we can actually build roads more quickly than it takes to fight a world war."
Osborne also confirmed the the government would be introducing a package of measures that would allow it to underwrite infrastructure projects as announced in July. He said this would also offer £10bn of guarantees designed to support new homes.
"We can guarantee infrastructure projects, we'll have a specific piece of legislation published next week so that government can use the low interest that we've earned by being tough on the deficit to help underwrite construction projects, including housing," Mr Osborne said.
"We are doing all these things to use the good name the government has built up and the low interest rates we've got to fund our banks, all of these things to get the economy moving, to make sure that the jobs we're already creating in this economy continue to do so."