Chancellor announces 36% cut in the DCLG capital spending budget, the main source of government spending on social housing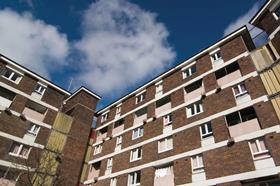 Chancellor George Osborne has announced a massive cut in the capital spending budget of the communities department, the main source of government spending on social housing.
Setting out his 2015/16 spending review in parliament this week, Osborne said the Department for Communities and Local Government's capital budget – the main source of government spending on affordable housing – will fall from £4.8bn in 2014/15 to £3.1bn in 2015/16 – a cut of 36% year-on year and a fall of 26% compared with this year's level.
It is understood that the reduction in capital spending on affordable housing will be at least partly offset by rises in rent.
In the official document setting out the spending plans, the government said its affordable housing plans would "include giving certainty that social rents will increase by CPI (consumer price index) plus 1% per year from 2015/16 to 2024/25.
Rents currently can rise only by the retail price index (RPI) plus 0.5%.
The government is also understood to be considering a way of funding affordable housing by taking equity stakes in new-build social homes.
Noble Francis, economics director at the Construction Products Association, called the cut "extremely concerning".
He said: "It is a big standout figure in an area where we are building half the number of homes we need to meet the number of new households created each year and especially on the social housing side, where there is a shortage of two million homes."
The chancellor committed to £300bn of capital spending before the end of the decade, for "roads to railways, bridges to broadband, science to schools".
Details of what £100bn of this infrastructure investment will be spent on were due to be outlined in detail by Treasury secretary Danny Alexander on Thursday (27 June).
The chancellor also announced the government is establishing a £2bn regional growth fund, which will be worth up to £10bn over the next five years, as well as an additional £800m for the Green Investment Bank in 2015/16. He also said the government would fund a feasibility study into a £12bn Crossrail 2 train line connecting north and south London and pledged to fund 180 new free schools in 2015/16, 20 new studio schools, and 20 new university technical colleges.
As announced in the Budget in March, Osborne said the government would reduce current spending by £11.5bn in 2015/16, allowing it to increase capital spending by £3bn a year from 2015/16 and by £18bn over the next parliament.
John Cridland, director-general of the CBI, said: "While the government talks a good game on infrastructure, we've seen too little delivery on the ground. It is critical we see a real pipeline of projects announced."