Treasury to pledge almost £7bn to housebuilding and target delivering 400,000 'affordable homes' in England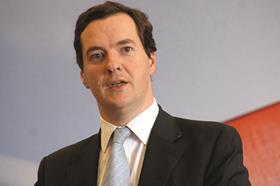 Chancellor George Osborne will once again put the housing sector at the heart of his economic plans today, with a plan to invest almost £7bn in housebuilding and a target to deliver 400,000 "affordable homes" in England in his Spending Review announcement today.
The pledge will come as the chancellor details £20bn of cuts to departmental budgets and £12bn of welfare cuts by 2020.
More detail is also exepcted on the government's plans for a new apprenticeship levy for major employers - a plan that has cast doubt on the future role of the construction industry's training body the CITB.
Construction firms will watch closely for cuts that could impact on the sector, with concerns growing that Osborne could cut or scrap the renewable heat incentive subsidy scheme, while housing associations are braced for a potential further cut to social rent levels.
The Treasury told the BBC the chancellor will unveil "the biggest affordable housebuilding programme since the 1970s" and will include:
£2.3bn paid directly to developers to build so-called "starter homes", aimed at first-time buyers, who will get a 20% discount on prices up to £450,000 in London and £250,000 elsewhere
£4bn to help build 135,000 "Help to Buy: Shared Ownership" homes for households earning less than £80,000 (or £90,000 in London)
£200m for 10,000 new homes that tenants can live in for five years at reduced rents while they save for a deposit. They will then have "first right" to buy the home
£400m to help build 8,000 specialist homes for older people or those with disabilities
Follow building.co.uk for live coverage, analysis and reaction to the Spending Review throughout the day