George Osborne is set to announce around £2.5bn in new capital investment in the Budget, financed through departmental spending cuts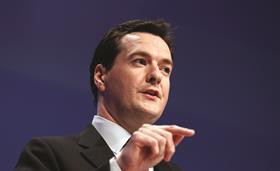 The prime minister's spokesman said today that ministers have been told they will have to find an extra £2.5bn of spending cuts to fund capital investment projects included in the Budget.
The prime minister's spokesman that all unprotected departmental resource budgets would be reduced by a further 1% a year over the next two years - 2013/14 and 2014/15.
"That will save cumulatively almost £2.5bn - that £2.5bn will help fund further investment in capital spending that will be announced in tomorrow Budget," the spokesman told a media briefing this morning.
It is expected that the new capital spending will be focused on housing and smaller infrastructure projects, including roads.