Chancellor lays out wide-ranging infrastructure and devolution package in Tory conference keynote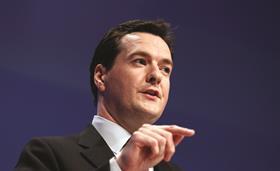 Chancellor George Osborne laid out a series of reforms covering infrastructure planning, planning, business rates and devolution in a wide-ranging keynote speech to the Conservative Party conference where he repeatedly characterised the Conservatives as the party of builders.
As trailed overnight, Osborne's speech included the news that he has poached the Labour peer and former transport secretary Lord Adonis to head up a new National Infrastructure Commission to work out what infrastructure the country needs for its future. The idea was a central part of Labour's economic manifesto at the last election, with the idea devised by former Olympic Delivery chair John Armitt, and was at the time opposed by the coalition as unnecessary change.
In addition, however, Osborne laid out reforms to devolve power to city regions to keep and even vary the £26bn of business rates collected by councils. Osborne said any council would be free to cut business rates as much as they want, and that "big cities with elected mayors" would in addition be able to raise rates to pay for new infrastructure, if they could demonstrate the support of the business community.
Osborne also derided Labour's plan to fund investment in infrastructure through direct Quantitative Easing as "not monetarism, but magic money tree-ism."
On the new National Infrastructure Commission, Osborne did not try to hide the fact he had stolen the policy from Labour, even taking the name of the body proposed by former shadow chancellor Ed Balls. He said: "There's an idea, put forward by many people, including some Labour politicians, and its time has come. An independent National Infrastructure Commission… set up in law, free from party arguments, which works out calmly and dispassionately what the country needs to build for it's future. And holds government's feet to the fire if it fails to deliver."
Osborne confirmed the appointment of Adonis, and said the body's first three tasks would be to work with northern councils on how to make a reality of the planned HS3 link, work with London on the next big public transport projects after Crossrail, and how the UK develops the energy generation capacity it needs.
He notably didn't say the commission would be given the task to decide on the location for new airport capacity in the South East, which is expected before Christmas.
Osborne also launched a passionate defence of both infrastructure construction and devolution as vital to the future of the UK, referencing opponents to HS2 in his own constituency. "I respect their opposition but i fundamentally disagree. Where would Britain be if we had never built railways or runways, power stations or new homes? Where will it be in the future if we stop building them now?
"I'm not prepared to turn around to my children or indeed anyone else's child and say: I'm sorry, we didn't build for you."
He said he would "work with councils" to pool local authority pension pots in order to get them to invest in major infrastructure projects, claiming it would lead to "billions" of investment in the infrastructure of their regions.
On devolving business rates, he said this new power was key to making a success of the Northern Powerhouse concept, which he admitted could still fail. Rather than business rates being levied locally at a nationally set rate, with the revenues then returned to central government only to be returned to councils in the form of grants, he said councils in future will simply keep the £26bn of revenue. This means that if new businesses set up in a local authority, it will have a direct impact on the amount of money it receives, contrary to the existing system.
"In my view," he said "proud cities and counties should not be forced to come to national government with a begging bowl. So today I am embarking on the biggest transfer of power to our local government in living memory."
Osborne explicitly said large cities with mayors that increase the level at which business rates are set would be able to do so to pay for the new infrastructure needed by their cities.
He characterised the Labour party as the "wreckers", in contrast to the Conservatives, using the phrase "we are the builders" seven times during the speech. He concluded: "Some people stand on the sidelines. Some want to knock things down. We are the builders."
More to follow…