New work slipped in August, ONS figures show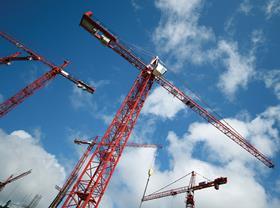 Construction activity stagnated in August with uncertainty around Brexit causing a lull in the amount of new work hitting the market.
According to data from the Office for National Statistics, the amount of new work up for grabs fell away by 0.2% during the month compared to July.
Construction output increased by 0.1% in the three months to August compared to the previous three-month period – driven by a rise in new work of 0.5% although work in repair and maintenance fell 0.8%.
The increase in the three-month on three-month series was driven by private new housing, private commercial and public new housing, with rises of 1.0%, 0.9% and 3.6% respectively.
Scape chief executive Mark Robinson said time was running out for the industry to prepare for Brexit given the chances the UK will crash out of the EU without a deal.
He said: "With just one week to secure an agreement with the EU [before next Thursday's meeting of EU leaders in Brussels who will ratify any deal], a no-deal Brexit looks increasingly likely. This outcome has the potential to plunge the economy into further uncertainty and the departure of thousands of non-EEA construction workers, causing an unprecedented skills deficit.
"Greater transparency from Boris Johnson about his plans would allow the industry to better prepare. Time is running out to get this right."
And Gareth Belsham, director at consultant Naismiths, said the latest figures showed how the industry was crying out for clarity on Brexit.
"Sentiment is increasingly resting on a knife-edge. A Brexit deal – any Brexit deal – could uncork months of repressed demand and send output racing back up to more normal levels.
"But a chaotic 'no-deal' exit, or even an extension to the agonising limbo, could lead to the plug being pulled on deferred projects."
The chief operating officer at Redrow said the figures showed housebuilders were starting to heed the government's call and build more homes.
Matthew Pratt added: "While Brexit continues to be the main priority for Boris Johnson, we are hopeful that matters related to housing will be addressed within the Queen's Speech on Monday and that we may have some clarity on support for the sector."