Morgan Sindall's fit-out arm to rejig Anglia Ruskin's Chelmsford campus
Overbury has been appointed to carry out a major revamp of several buildings at Anglia Ruskin University's Essex campus.
Building understands the university, which declined to comment, is making changes to three of the key academic buildings on its Chelmsford site.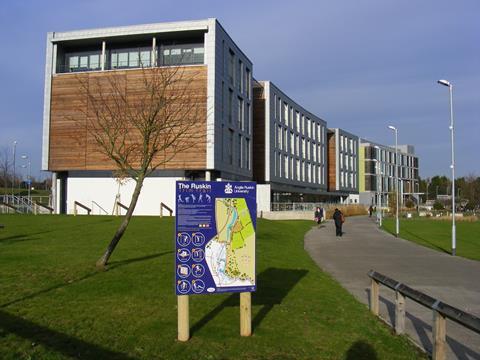 Work is expected to start in earnest next month, with the programme expected to take around 12 months to complete.
The decision to push ahead with the programme comes a month after Anglia Ruskin (ARU) confirmed it was one of a string of clients putting its capital development plans on hold because of the covid-19 pandemic.
> Focus: Higher education
> How are university capital budgets holding up in the face of covid?
A spokesperson for the university, which also has campuses in Peterborough and Cambridge, confirmed projects had been paused as a direct result of the pandemic.
He said: "Covid-19 has caused ARU to adjust capital plans in Chelmsford and some projects have been held. However, business critical plans have continued."
Other clients which have previously confirmed a pause plans include Imperial College London, Birmingham Airport and London City Airport.
Overbury declined to comment.