Venue will be the home of Bristol's football and rugby clubs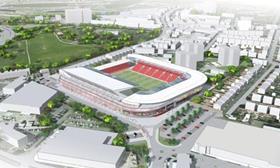 The company behind Bristol City football club and Bristol Rugby has unveiled revamped plans for the £40m redevelopment of Ashton Gate stadium in the city.
Bristol Sport – which oversees the two sports clubs – will project manage the construction.
Each of the four stands will be redeveloped in phases to increase the stadium's capacity to 26,000 seats.
The plans include a club shop, a museum of sport and a large pub.
The redevelopment plans have received the backing of independent mayor of Bristol and former RIBA president George Ferguson.
Bristol City FC board member Jon Lansdown said: "Ashton Gate has been the club's spiritual home for more than 100 years and these plans would improve and enhance the facilities ready for the next 100 years.
"The stadium would be designed with supporters in mind; there would be full engagement and consultation to ensure we represent the history and heritage of the club as fans would like.
"Modern stadium facilities are a key pillar for the club, closely aligned with our community engagement and the importance of financial prudence. This redevelopment plan is testament to all of that."
Plans will be submitted early in the summer and the stadium revamp could be completed within three years.